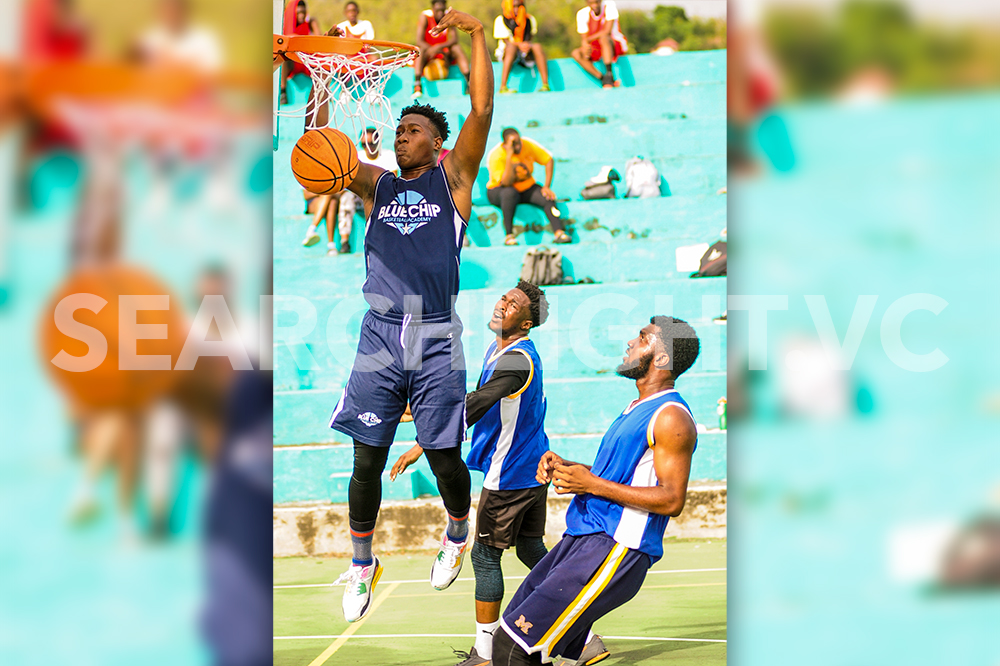 Thomas leads Blue Chip to basketball title
The Blue-Chip Academy took revenge for their 2020 defeat over the defending champions, Medical Schools Combined when the two teams clashed on Friday March 4, 2022 in the finals of the St Vincent and the Grenadines Community College (SVGCC) Invitational Basketball Tournament at the campus courts.
 Boasting a strong bench, the Blue-Chip Academy executed a well thought out game plan, and handed the Medical Schools Combined a 52-35 beating to emerge as the 2022 SVGCC Invitational Basketball champions.
 From jump-ball to the end of the first period the competition's Most Valuable Player and Finals' MVP Marques Thomas, took charge early which gave Blue-Chip Academy a 16-6 lead.
 Medical School Combined had a better second period, scoring just two points fewer than their opponents, but still trailed 18-30 at the halfway point.
 Blue-Chip Academy continued steady progress to finish the third period with the score at 41-27 before romping home to a 53-35 victory.
Marques Thomas, who was also the competition's Best Offensive Player led the scoring for Blue-Chip Academy with 21 points, while Jonelson Compton added 14 points.
 Abraham Adefesaye of the Medical Schools Combined, who copped the award for the Best Defensive Player sank 19 points.
 Earlier, the third place playoff between Jules Anthony Northern Boys and the Division of Technical and Vocational Education was a keenly contested affair which ended in a 40-36 triumph for the Northern Boyz.
 The Jules Anthony Northern Boyz rushed off to a 12-5 first quarter lead, but DTVE with two female players in their line-up mounted an unexpected comeback and were down only 18-24 at the end of the second period.
 DTVE got even closer in the third session which ended with the score at 32-36 in favour of the Northern Boyz.
With one period left to play the small crowd got more vocal as they became totally immersed in the game that would decide who ended the competition in third place.
 
The Jules Anthony Northern Boyz held their nerve to edge home 40-36. Kurtney Franklyn netted 23 points for the Jules Anthony Northern Boyz; and Jeshawn Delpesche scored 11 points for DTVE.

 The following awards were presented at the prize-giving ceremony at the end of the competition:
• Rueben Ross – MVP of DTVE
• Kahlil Charles – MVP of DASGS
• Marques Thomas–MVP of Blue-Chip Academy
• Ingram Ittu – MVP of Medical Schools Combined
• Kurtney Franklyn – MVP of Northern Boyz
• Rueben Ross – MVP of the third place game
• Best Defensive Player – Abraham Adefesaye of Medical Schools Combined
• Best Offensive Player – Marques Thomas
• Finals' MVP – Marques Thomas
• Tournament's Most Valuable Player – Marques Thomas
• Third place – Jules Anthony Northern Boyz
• Second place – Medical Schools Combined
• 2022 champions – Blue-Chip Academy