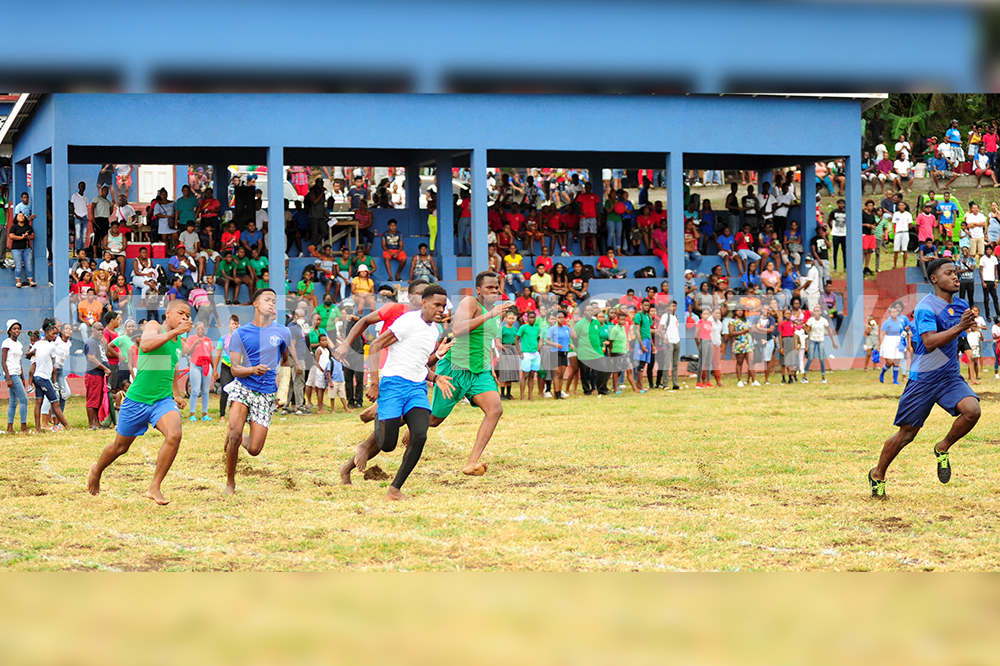 Green House makes history at Sandy Bay sports
After a hiatus caused by the covid pandemic and eruptions of La Soufriere volcano resulting in mass evacuations of residents of North Windward the Sandy Bay Secondary School held its first track meet at the London Playing Field on Friday, February 25, 2022.
Thirty-six events were contested on the day, and at the end, history was created in the school when Green House, with a total of 833 points won its first athletic championship.
Defending champions, Blue House amassed 741 points which was only good enough for a third place finish in the three-house race, with Red House ending in second place on 818 points.
The two top individual titles of Victor Ludorum and Victrix Ludorum went to junior athletes.
The Junior Boys champion, Josiah Roberts of Green House ended the day with a tally of 30 points which was good enough to earn him the title of Victor Ludorum.
Joze-Ann John of Red House won the Junior Girls title amassing a total of 39 points, placing earning her the Victrix Ludorum title.
The Intermediate Boys title went to Dwayne Henry of Red House with 29 points, while Nediah Caesar of Green House with 33 points earned the Girls Intermediate title.
Deshorn Clarke of Blue House won the Senior Boys title with 24 points, and Leandrez Lavia of Blue House won the Senior Girls title also with 24 points.
In Friday's meet, two athletes stood out despite not winning any titles. Shanice Sam and Angelique Shermon of Blue House were examples of competing despite the odds. Sam, born with a slight deformity which prevented her from running at the same speed as her competitors, nevertheless finished the races in which she competed.
Shermon, who was mistaken for a teacher anchored the Blue House senior team pushing herself to the limit and in the process ensuring that team won the senior girls 4X100-m relay and was mobbed by team-mates at the end of the race.