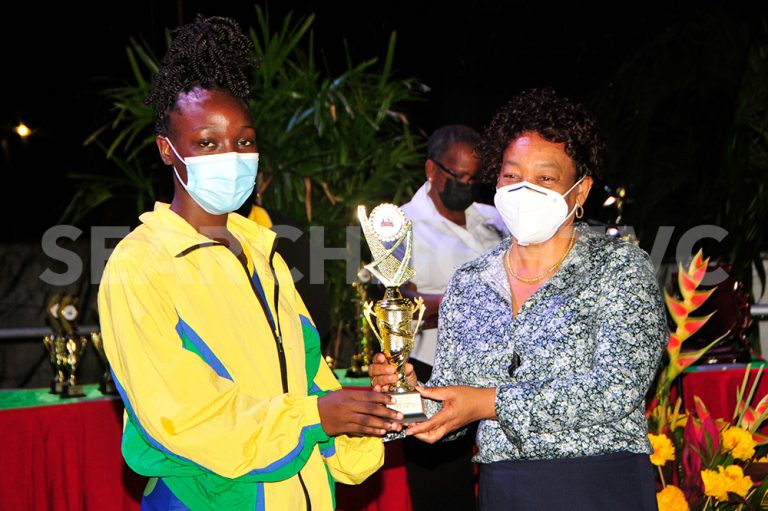 SVG wins 5 major awards at OECS/ECCB netball tourney
St. Vincent and the Grenadines (SVG) won five major awards at the conclusion of the 2022 OECS/ECCB International Netball Series, which was played at the Windsor Park Hard court in Roseau, Dominica from February 12-18.
Four awards were in the individuals category with Shania Pompey walking away with three of these. Pompey was adjudged the Best Centre Court player; The MVP for St. Vincent and the Grenadines and the Player of the Tournament award.
Her team-mate, Joseann Antoine copped the award for Best Defending Player.
SVG's Mary Ann Frederick captured the award for the most goals scored.
The Vincentian six-foot goal-shooter totalled 268 attempts in the five matches in which she played, scoring 221 goals, with a shooting accuracy of 82.46 percent.
No other player made more attempts or scored more goals than her; the next best being Reyana Regis of Antigua and Barbuda with 198 attempts, scoring155 goals.
St. Vincent and the Grenadines defeated St Lucia 39-17 in the rain affected final game last Friday to win the Gloria Ballantyne Trophy, and also won the Best Shooting Team award.
Minister of Sports, Frederick Stephenson was on hand at the Argyle International Airport last Saturday to welcome home the victorious SVG squad.
"I am very delighted to be here this afternoon with you and to congratulate you for your outstanding performance in this year's OECS/ECCB netball championship, bringing home the trophy to St. Vincent and the Grenadines, and ensuring that netball is on the rise in St. Vincent and the Grenadines," Stephenson said.
The sports minister used the opportunity to announce plans for the hosting of a national netball tournament comprising teams from communities across St. Vincent and the Grenadines.
"I want to assure you that the work that you do in netball will not go unnoticed," Stephenson stated.
He said there have been talks with the Permanent Secretary in his ministry as well as Director of Sports, Nelson Hillocks.
"I want to see later on this year a national netball tournament in St. Vincent and the Grenadines where we have teams from all communities throughout St. Vincent and the Grenadines. I want to see us rise again in the area of netball, and I want to see all sporting disciplines in St. Vincent and the Grenadines that persons participate in, be on the rise once again."
The full list of Team Awards for the Second Annual ECCB/OECS International Netball Series are-:
· Best Team on Parade – Dominica
· Most Disciplined Team – Barbados
· Most Accurate Shooter – Latonia Blackman (Barbados)
· Best Defending Player – Joseann Antoine (St. Vincent and the Grenadines)
· Best Centre Court Player – Shania Pompey (St. Vincent and the Grenadines)
· Player of the Tournament – Shania Pompey (St. Vincent and the Grenadines)
· MVP (Antigua and Barbuda) – Rayana Regis (GS)
· MVP (Barbados) – Shonette Azore – Bruce (WD)
· MVP (Dominica) – Makerah George (WD)
· MVP (St. Kitts and Nevis) – Rochella Challenger (GA)
· MVP (St Lucia) – Makeba Alcide (WD)
· MVP (St. Vincent and the Grenadines) – Shania Pompey (WA)
· Best Shooting Team – St. Vincent and the Grenadines
· Best Defending Team – St Lucia
· 3rd Place – Antigua and Barbuda
· 2nd Place – St Lucia
· Champions and winners of the Gloria Ballantyne Trophy – St. Vincent and the Grenadines