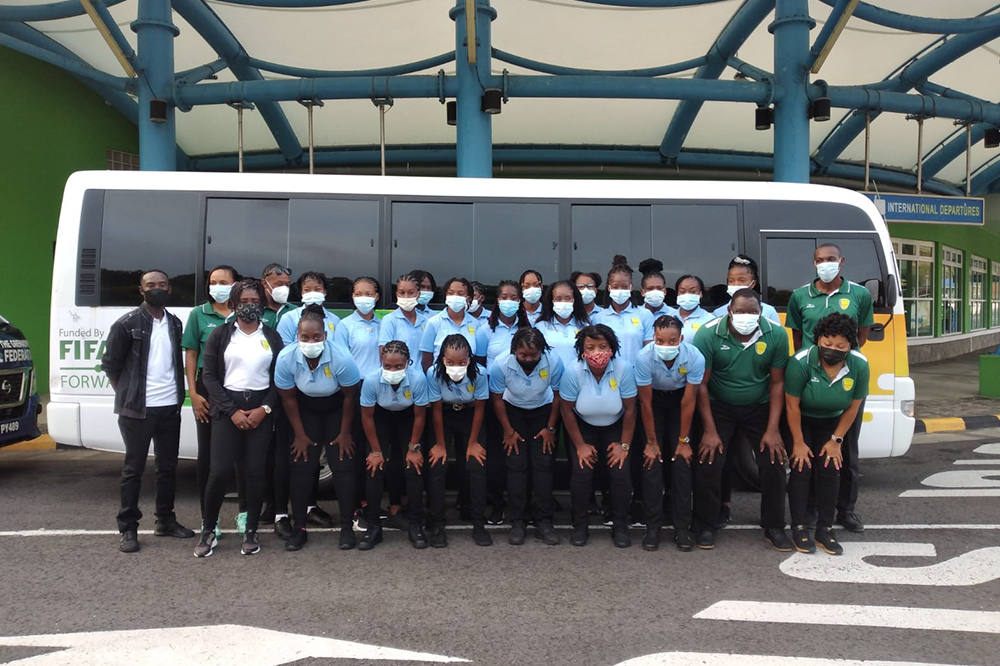 Senior female footballers off on tough assignment
A 21- member St Vincent and the Grenadines (SVG) senior female football team left for Cuba last Saturday where they will play two matches in the world cup qualifiers.
The team includes goal keepers- Altica Benn, Marsha Marshall and Tishana James, Defenders- Amalis Marshall, Ashanti Douglas, Kendra Findlay, Rae Dawn Nanton, Samayaa Connell, Shanyah Peters, Shelley Browne, Zeneke George and Zeyana Charles
The Midfielders are Ashante Browne, Denella Creese, Dionte Delpeche, Hollester J. Browne, Jessicia Miller and Kaywana Byron, with Areka Hooper and Asha Richards as strikers. Sherese Cyrus, a striker, who is studying in Jamaica joined the delegation in Cuba.
The team manager is Shevorn Trimmingham and head coach Cornelius Huggins, with assistant coach Alnif Williams . The goal keeping coach is Urtis Blackett, Shevon Smith is the physiotherpist, Roxanne Keizer – nurse, Junio Kelly as media representative- graphics and videographer. The delegation also includes general coordinator Roxell John.
St Vincent and the Grenadines are placed in Group E alongside Cuba, Haiti, the British Virgin Islands and Honduras. SVG are scheduled to play against host Cuba, tomorrow February 16, followed by a game on February 20 against Haiti.
The next round of matches will be played in April, when St Vincent and the Grenadines hosts the British Virgin Islands and will be away to Honduras.