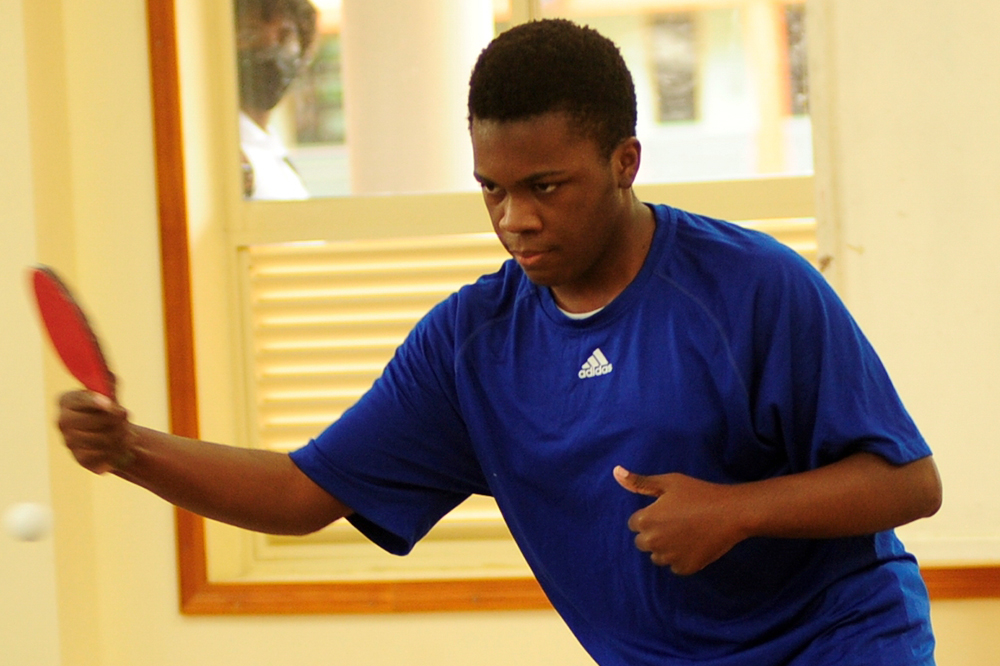 The younger Creese is SVGCC table tennis champ
A first year student at the St. Vincent and the Grenadines Division of Arts, Sciences and General Studies on Friday February 4, 2022 was crowned the new St. Vincent and the Grenadines Community College (SVGCC) Individual Table Tennis champion.
Michel Creese overcame a spirited Kurtney Franklyn, a freshman in the newly-introduced Applied Associates Degree in Sports Sciences to walk away with the top ranking.
He defeated Franklyn three sets to one in the final of the 2022 edition of the SVGCC Individual Table Tennis champion which was held at the SVGCC campus at Villa.
Creese had to work his way from behind as an adrenaline filled Franklyn took the first set 11-8, but parity was restored as Creese hit back with vengeance to take set two, 11-1.
The contest from there onward had the small allowed gathering cheering each point as Creese came back from a 3-7 deficit in the third set, to win 11-7.
Set four was much of the same seesaw battle until Creese pulled away to wrap up the championship with an 11- 7 set four win.
On route to championship honours, Michel Creese ended the purple patch of Kimoni Shoy with a straight sets semi-final win 11-6, 11-6, 11-4.
The 2022 runner-up, Kurtney Franklyn got to the final with another upset win in his semi-final match up against Mirac Creese.
Franklyn was in fine form as he took the attack to Mirac Creese, dispatching him in straight sets 11-6, 11-8, 11-4.
Still shaken up from his semi final loss, Mirac Creese, brother of eventual champion Michel Creese, did not regain his composure which worked in the favour of Kimoni Shoy who took the first set of the third place match 11-3.
Mirac Creese bounced back to take the hard fought second set 13-11, and wasted no time on the table to win set three, 11-8. Shoy did not give up, and fought back to level the match with an 11-8 win in the fourth set. Micac Creese however held his nerve to complete the third place victory winning the deciding fifth and final set 11-7.
The 2022 St. Vincent and the Grenadines Community College Individual Table Tennis championships final top three placing are: Champion, Michel Creese; second place, Kurtney Franklyn; with Mirac Creese in third place.