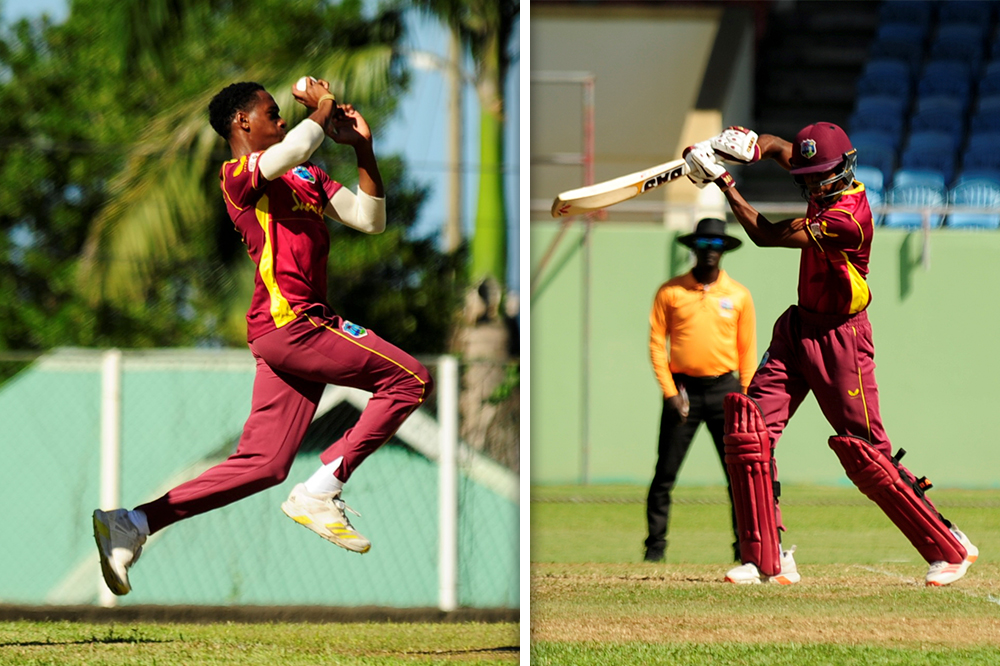 St Lucian Rising Stars, products of hard work
When the St Lucia National Cricket Association took leave of two of their young rising stars on December 20, 2021, sending them off to St Vincent and the Grenadines (SVG) to link up with their team mates for the West Indies Under-19 versus South Africa Youth One Internationals, they were expecting good performances.
And, the pair of McKenny Clarke and Ackeem Auguste did not disappoint.
Clarke, a tall lanky right-arm fast bowler, along with the West Indies Under-19 skipper, Auguste, a stylish left-handed batsman, formed a crucial part of the regional side's bid to capture glory in the four friendly ODIs played at the Cumberland Playing Field on December 26 and 30, 2021; and at the Arnos Vale Cricket Grounds, on December 28, 2021 and January 3, 2022.
Auguste' four innings in SVG were displays of his potential and class, and four of the catches that he took here are sure to become the subject of future legendary tales.
Clarke, who is still working his way into top match readiness, had many a batsman hurrying their shots, having been taken by surprise at his pace and bounce. Even the South African batsmen had a grudging respect for him, with one of them commenting that "He hits the bat very hard".
Wayne Auguste, president of the Central Castries Association said that he felt a sense of pride as he watched Ackeem lead his players into battle, his stroke play, and the pace generated by Clarke.
"Ackeem and McKenny, like all other young cricketers on the West Indies Under-19 team are trying to find their feet as international cricketers. Ackeem captaining the West Indies team is an honour Central Castries will always cherish. It is also an example of recognising the talents of the players, and doing our best as an organisation to support them in all ways possible," Wayne Auguste said.
He added that McKenny Clarke is a young bowler with raw talent who has and continues to work hard, and has never given up.
"McKenny is one for the future once he continues to put in the hard work as he has a few years ahead of him to refine his game, improve his skills, and keep knocking on the doors of the regional selectors."
Both players are products of strong family support – morally and otherwise, as they grew up stamping their mark on the local cricket fields at the various levels. Auguste was in top form before the dreaded coronavirus pandemic put a halt to all sporting activities. During that period he stroked himself into St Lucia's record books with three consecutive hundreds in that island's first division 2-day competition.
It is the second time that a St Lucian has captained the West Indies Under-19 team; Kimani Melius being the first when he captained the regional side at the 2019 ICC Under-19 Cricket World Cup in South Africa.
The reports from SVG have been positive, and both young cricketers having returned to St Lucia have already indicated that the hard work is not over. Ackeem Auguste has been called up as part of the Windward Volcanoes squad, as the four-island grouping takes on regional counterparts in the 2022 Cricket West Indies Regional 4-day cricket competition.
A programme to further the development of young McKenny Clarke is being formulated, aimed at improving his physical fitness and cricketing intelligence.
And, Auguste has given the undertaking that "Central Castries Cricket will do all that is possible to further the development of these two young players."