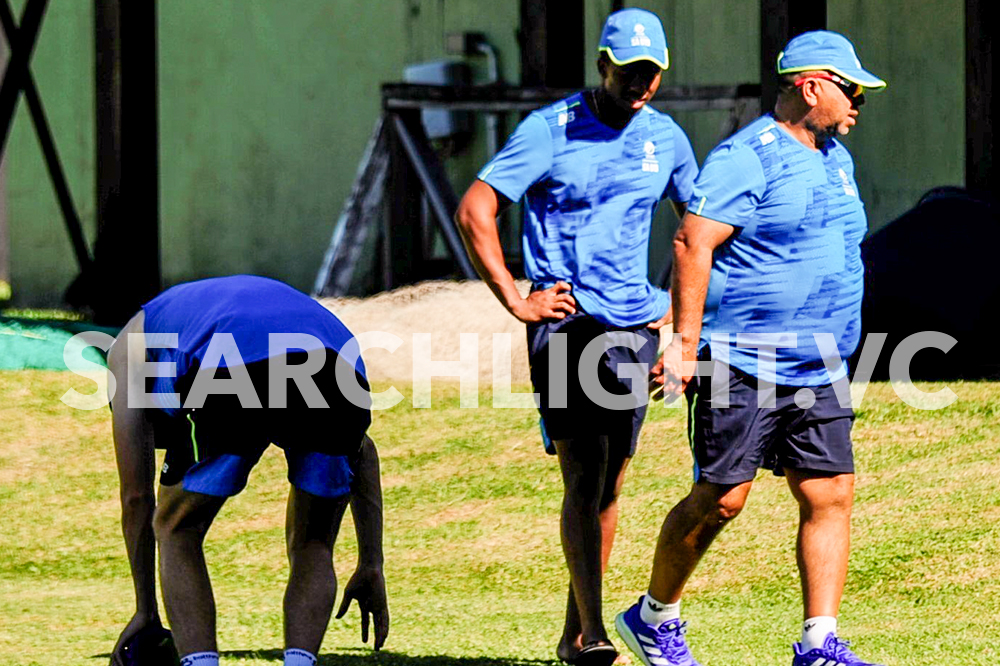 South African coach says Windies team has heaps of talent
Head coach of the South Africa Under-19 cricket team, Shurki Conrad was pleased that the series against West Indies Under-19 came off successfully at two venues here in St Vincent and the Grenadines (SVG).
And, as he looks forward to the upcoming World Cup Series which starts in the Caribbean later this month, the South African commended the talent he has seen in the Windies squad following their drawn series which wrapped up last Monday, January 3 at the Arnos Vale One pitch.
"There are heaps of talent in that West Indies side, and I think that they are going to give a bloody good show as well," Conrad told SEARCHLIGHT in an exclusive interview.
"It is a bit like South Africa. People must not tell us that there is not talent in our countries. I think that there is talent to burn in the West Indies. We can see Sir Curtly (Ambrose') hand in a lot of the quick bowlers, and the spinners have been really good. There are obviously some talented batters, they just need time in the middle and they will develop," Conrad expanded.
South Africa Under -19 drew the just-ended one day series with West Undies Under-19 two games apiece in the four match series played at Arnos Vale One and the Cumberland playing field.
He felt that the short notice given to the Vincentian authorities did not make for ideal preparation, but, "Given the current situation around the world" the South African coach said "it was a good feeling to get out and play cricket and have some really good competition in the series. We are lucky to have gotten away with a shared result if the truth is to be told."
Conrad said that the young players of both teams still have a lot to learn and he commended Cricket West Indies (CWI), "for going out of their way to make sure that this tour did take place."
The South African head coach alsSouth African coach says Windies team has heaps of talento commended the St. Vincent and the Grenadines Cricket Association, the ground staff, caterers, the hotel staff, bus operators, and the lone reporter who covered the series for helping to make play a possibility as both teams now head into the 2022 ICC Under-19 Cricket World Cup which opens on January 14.
"We will now focus earnestly on the World Cup. As coaches we always tend to look for positives and negatives, and sometimes the brutal truth is that probably there were not any. The positive is that we were able to get out and play. The positive is that there was great competition. The positive is that character got tested so when we are put under pressure in the World Cup we would all have had two weeks of it. It was also great that we were able to acclimatise as we were here for two weeks in the heat and humidity," Conrad added.
He was pleased that "All of our guys got a run as it was always our aim to play everybody in the series. Now our focus is squarely on the World Cup and preparation starts in earnest, and I am pretty confident that we will give a good showing."
Commenting on the current West Indies senior team and the many issues surrounding it, Conrad pointed to the players he saw in the Under-19 series, noting that it was "a positive sign" and that there is a future for West Indies cricket and world cricket.
Matches in the Men's Under 19 Cricket World Cup which runs from January 14 to February 5,2022 will be played in Antigua/Barbuda, Trinidad and Tobago, St Kitts/Nevis and Guyana.