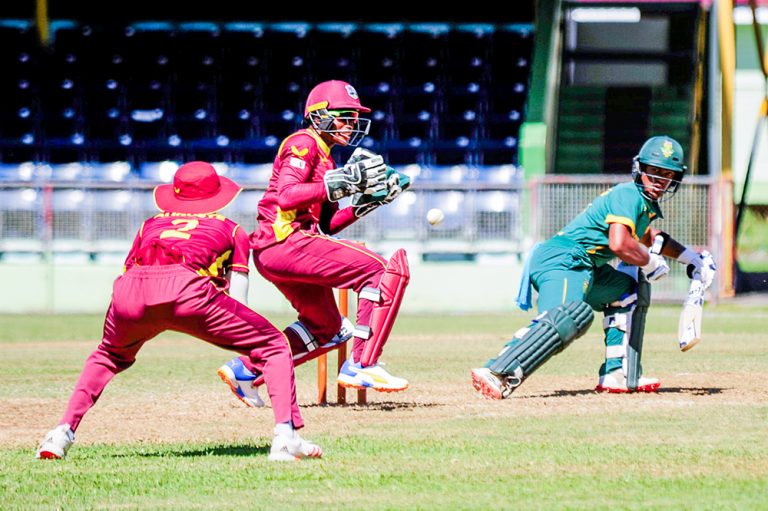 South Africa takes lead against Windies Youth in ODI Series
South Africa Under-19s took a 2-1 lead in the 4-match Youth One Day International (ODI) Series, with a hard-fought one wicket victory over rte West Indies Under-19s at the Cumberland Playing Field on Thursday December 30.
West Indies won the toss and decided to bat, and on a difficult pitch were dismissed for 107 in 38.3 overs. Shaqkere Parris top-scored with 27, Teddy Bishop made 26, and Giovonte Depeiza contributed 22.
Bowling for South Africa, Dewald Brevis took 3 for 16 from 3.3 overs; Hardus Coetzer bagged 3 for 25 from 9 overs; and Liam Alder grabbed 2 for 23 from 10 overs.
In response, South Africa Under-19 reached 113 for 9 in 18.3 overs, led by Ethan Cunningham with 25, and Alder not out 24.
Bowling for West Indies Under-19, Onaje Amory had good figures of 4 for 4 from 4 overs; Mathew Nandu 2 for 2 from 3 overs, and Johann Layne 2 for 26.
This outcome makes for an exciting final in early January after Windies Youth squared the series on Tuesday with a dominant performance.
Then, a scrumptious cover drive for four by skipper Ackeem Auguste off Simelane, sealed the game for the Windies Youth as they squared the 2021 – 22 Youth ODI 1-all in the second game of at the Arnos Vale Sports Complex on the afternoon of December 28.
Coming in with the hosts well placed at 62 for 2 with the fall of Teddy Bishop who was trapped lbw by Tsaka for 25, Auguste began quietly as he and Nandu ensured that there were no further alarms.
Chasing 103 for victory, Windies Youth lost Parris bowled by Mnyanda without scoring; 1 for 4. Parris misjudged the bounce as he left one alone, the ball clipping the top of the bail on its way to the wicketkeeper.
Nandu and Bishop took the score to 62 before Bishop fell. Then came the Nandu and Auguste 42-run partnership which saw the Windies Youth home with 26.4 overs to spare. Nandu remained 42 not out at the end with 4 fours, and Auguste 28 not out also with 4 fours.
Tsaka finished with 1 for 11 from 3 overs, and Mnyanda 1 for 24 from 6 overs. Extras contributed 9, comprising 7 wides, 1 no-ball, and 1 wide.
Earlier in the day, still smarting from the dramatic collapse which saw them handing South Africa Under-19s an 18-run victory last Sunday at Cumberland, the Windies Youth wasted no time in letting their opponents know the time of day.
South Africa Under-19s were unable to build any meaningful partnership, as they lost wickets regularly at 1 for 02; 2 for 09; 3 for 12; 4 for 34; 5 for 55; 6 for 67; 7 for 73; 8 for 79; 9 for 101, all out for 103.
Bowling for West Indies Youth, Carmichael took 3 for 25 from 8.3 overs, assisted by Clarke with 2 for 12, Layne 2 for 14, and Mahase 2 for 34. Extras totalled 11 made up of 7 wides and 4 byes.
The triple pace threat of Layne, Thorn, and Clarke did the initial damage for Windies Youth. Copeland top-scored with 24, Simelane and Tsaka made 14 each, as no other South African batter reached double figures.
In the first ODI, South Africa won by 19 runs with 15.3 overs to spare; West Indies Under-19 losing their last seven wickets for just seven runs.
Before the start of play on Sunday, both teams took the knee in support of the Black Lives Matter Movement, and signalling that racism has no place in sport or in society.
And before the start in Tuesday's game, a minute's silence was observed as a mark of respect on the passing of Archbishop Desmond Tutu of South Africa who died on December 26.
The fourth and final Youth ODI will be played on January 3, 2022 at Arnos Vale.
The teams are using the series as preparation for the ICC Men's Under-19 Cricket World Cup which Cricket West Indies (CWI) is hosting from January 14 to February 5, 2022 in Antigua and Barbuda, Trinidad and Tobago, St Kitts and Nevis, and Guyana.