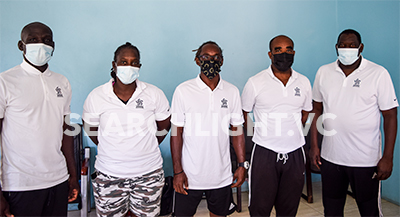 National female goalkeepers get advanced training
Two Saturdays of intense theoretical, practical and personal development sessions targeting the goal keepers attached to the various female national teams, took place on December 11 and 18, at the Brighton Technical Centre.
The sessions, which covered several aspects on goal keeping were conducted by Urtis Blackett, Amalis Marshall, Kevin Richardson, Alanzo Bute, Melvin Andrews and Kevin Richardson.
Satisfied that the sessions were well delivered and equally well received, Blackett commented: "It is a work in progress, but this type of training is needed constantly ".
Blackett said that the sessions were specific, and in keeping with emerging trends in the sport.
" We looked specially at building out of the back, as we know modern day goal keeping, everything develops from the goal keepers, if you can't use your feet, there is no place for you", Blackett declared.
Some of the other specifics the goal keepers were exposed to included how to deal with crosses, distribution and angling distribution.
In addition to the football related instructions, the female goal keepers were involved in sessions dealing with personal development.
Conducting the personal development sessions were General Secretary of the St Vincent and the Grenadines Football Federation(SVGFF)- Devron Poyer, along with Nadia Alexander and Shevorn Trimmingham.
Alexander is the Public Relations Officer of the SVGFF, while Trimmingham is the national senior female team's manager, as well as the executive administrator of the SVGFF.