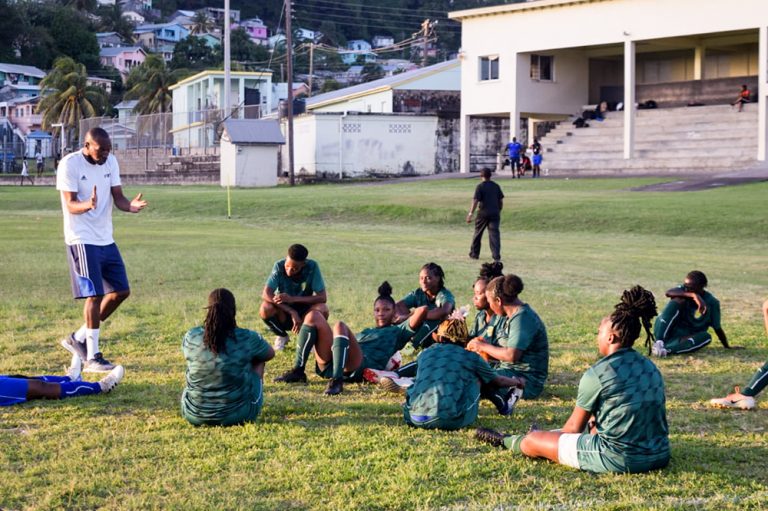 SVG's senior women's football provisional squad released
Twenty-four local female footballers have been named as part of a provisional squad, in preparation for Group E of the 2022 CONCACAF World Cup qualifiers.
The provisional squad, though, can have additions, as the technical staff will continue its recruitment campaign for other eligible players, either locally-based or overseas.
Included in the squad announced last week by the secretariat of the St Vincent and the Grenadines Football Federation, are goalkeepers Altica Benn, Marsha Marshall and Tishana James.
Named among the list of defenders are Amalis Marshall, Ashanti Douglas, Kendra Findlay, Rea Dawn Nanton, Samayaa Connell, Shanyah Peters, Shelly Browne, Zaneke Kizzy George and Zeyana Afiya Charles.
The midfielders comprise Ashante Browne, Denella Creese, Dionte Delpesche, Esreen Dell Quow, Hollester Jazzy Browne, Jessica Miller, Kaywana Byron, Kitanna Richards and Kristiane Tete Williams.
And, Areka Hooper, Denel Creese and Teohsa Culzac, are the strikers selected.
The management team includes Shevorn Trimmingham (manager), Cornelius Huggins (head coach), Alnif Williams (assistant coach) and Urtis Blackett (goalkeeper coach).
The qualifiers were originally set for last month, but have been pushed back to February and April, 2022.
St Vincent and the Grenadines' first match is scheduled for February 16 versus Cuba in Cuba, with the second slated to take place here on February 20, against Haiti.
The Vincentian women are to host the British Virgin Islands on April 6, and six days later, will be away to Honduras.
Mexico, Puerto Rico, Suriname, Antigua and Barbuda and Anguilla are in Group A. In Group B are Costa Rica, Guatemala, St Kitts and Nevis, the US Virgin Islands and Curacao. Slotted in Group C are Jamaica, the Dominican Republic, Bermuda, Grenada and the Cayman Islands, while Panama, El Salvador, Barbados, Belize and Aruba comprise Group D. Trinidad and Tobago, Guyana, Nicaragua, Dominica and the Turks and Caicos Islands are in Group F.
Following the first phase, the six groups go forth to join the USA and Canada. These eight teams will then be placed into two groups of four each.
Following, the two top places from each of the two groups will qualify for the semi-finals and get direct tickets to the FIFA World Cup in Australia and New Zealand in 2023, whereas, the two third places advance to the inter-continental play-off.
At the end of the inter-continental play-off, the winner earns a spot in the 2024 Paris Olympics and the 2024 CONCACAF Gold Cup.
Additionally, the runner-up and the third place will progress to a CONCACAF Olympic play-in. The winner of the play-in gets a spot in the Paris Olympics and the 2024 CONCACAF Gold Cup.