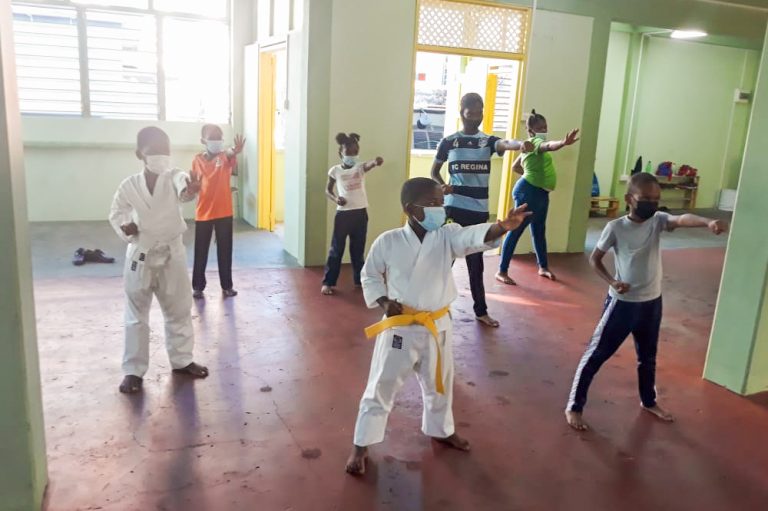 Hairouna Karate Federation unveils 2022 plans
Having to endure more than a year of limited activities, the Hairouna Karate Federation(HKF) is planning optimistically for 2022.
Public Relations Officer of the HKF- Seon Stronghold, told SEARCHLIGHT that with a better understanding of the COVID-19 pandemic protocols, they are positioned to execute their plans.
Stronghold relate that the calendar of activities will commence as early as January .
"In January (2022), we will have the Hairouna Karate Federation officials' workshop… In February (date to be announced) we have a Federation's training day , where all the clubs are going to come together in one location, preferably on a park and have a joint training session…On the 5th of March, we have a Karate Federation Kata workshop (and) on the 12th we will have a Kumite workshop", Stronghold related.
He also revealed that on March 26, there will be the HKF's Annual General Meeting and elections.
With all the preliminary work done, competition will begin in May.
Stronghold therefore outlined: "Competition begins in May, with the Kata Competition on the 7th of May… It will be for Under-7 and Under-13 and on the 12th, the Kumite Competition for Under-7 and Under-13 … On the 4th of June, there will be the Kata Competition for Under-17 and Under-21… On the 18th, there will be the Kumite Competition, Under-17 and Under-21
The HKF Public Relations Officer emphasised that having the competition spread out is in keeping with the health protocols.
Additionally, he noted from previous experience, they have found that interest wanes when the two competitions are held simultaneously and become to drawn out.
The HKF optimism goes beyond activities here in St Vincent and the Grenadines, as stated by Stronghold.
" On 27th June, we have a World Karate Federation Youth Camp in Croatia … We are hoping to send at least one student and a coach, just to get the exposure and get that experience", a forward-thinking Stronghold proposed.
Following on the heels of the overseas event, Stronghold said that in July, competition will resume with the Kata Competition for seniors on July 2, with the Kumite Competition scheduled for July 16.
August's activities propose a social on August 1; a training day on a date to be decided, while on September 7 and 8, there will be the Commonwealth Karate Championships, with another AGM carded for November 27.
According to Stronghold, the HKF is hopeful that it can send a team to the Italian Youth League slated for December 9 – 11.
Participation to the latter will be based on the performance of the young karatekas in the locally based competitions.
Stronghold noted that the officials' workshop is a prelude and preparation to national tournament that the HKF is set to host.