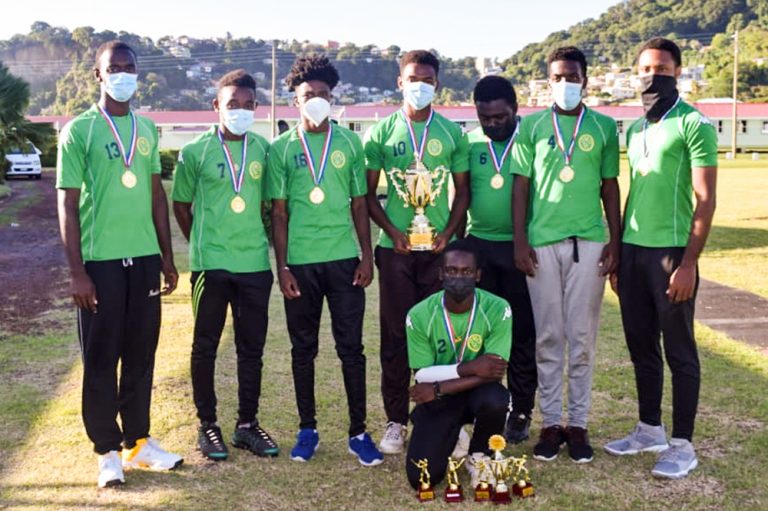 DASGS trump SVGCC's T/10 cricket title
THE DIVISION OF Arts, Sciences and General Studies (DASGS) eked out a one-wicket victory over South Windward, to claim the 2021 SVG Community College Invitational T/10 Cricket competition, last Friday at the Arnos Vale Two Playing Field.
Irvin Warrican Jr. made 35 not out, as DASGS, responding to South Windward's 33 all out from 2.4 overs, reached 38 for 6.
When South Windward batted, Zevron Bobb hit 22, a knock that included three sixes. Luke Wilson picked up 2 for 2 in four balls. Warrican was adjudged player of the final.
The two got to Friday's final in contrasting fashion the day prior.
In the first semi-final, DASGS beat Jules Anthony Future Legends by 17 runs. DSAGS – 52. Irvin Warrican Jr, 38. Desroy Hooper returned the impressive figures of 6 for 18.
Future Legends' reply was 35 all out. Luke Wilson took 4 for 2 and Solomon Bascombe, 2 for 8.
Meanwhile, in the second semi-final, South Windward defeated BSS Warriors by 59 runs. South Windward – 104. Jahiel Walters scored 57.
Kirk Hamlett took 2 for 9, Jorden Charles, 2 for 24 and Watson Seaton, 2 for 28.
BSS Warriors scored 45 all out. Kyle Bobb took 3 for 19, Camarlo Cain, 2 for 3 and Kenron Strough, 2 for 8.
Immediately preceding Friday's final, Jules Anthony Future Legends defeated BSS Warriors by 79 runs to take the third place. The Legends amassed 137 for 1 in their 10 overs. Tilron Harry slammed 67 not out and Kalique Bowens contributed 48. In reply BSS Warriors got stymied to reach 58 for 4 from their allotted 10 overs. Oryan Velox made 20. Harry was named the MVP.