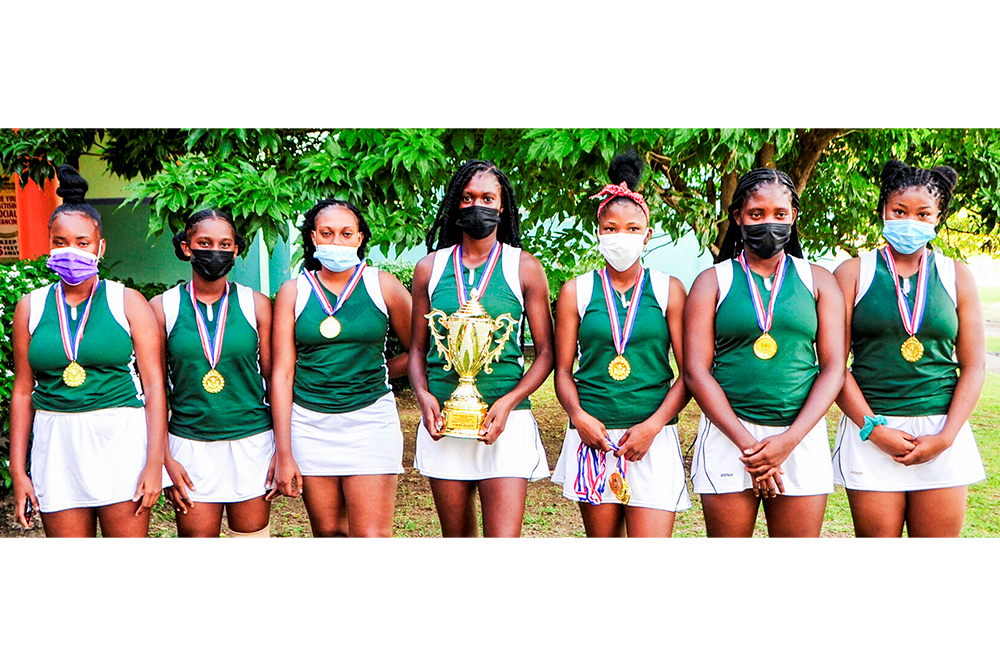 Mustangs gallop past Young Lasses to take netball title in thriller
The action was furious, and at times physical, when Bethel Young Lasses and Troumaca Mustangs met in the finals of the 2021 ECGC/Island Sipz Water St. Vincent and the Grenadines Community College Invitational Netball competition last Friday, December 3, 2021, at the campus courts at Villa.
When the final whistle blew, a total of 25 goals were scored, but just one goal separated the two teams. There were too many unforced errors, in the view of knowledgeable persons who attended the finals, but the defensive work of Kayla Miller and Zonique Vincent of Troumaca Mustangs, and Samayaa Connell and Ketonna Campbell of Bethel Young Lasses, were responsible for the pressure placed on the shooters.
Notwithstanding, the effort by both teams was exceptional, but when all was said and done and the final whistle blew, Troumaca Mustangs snatched a cruel, nail-biting 13-12 victory over the Bethel Young Lasses.
When the first whistle blew, the Mustangs sped out to a 3-0 lead, before the Bethel Young Lasses got in the groove to put the brakes on their opponents, both teams ending the first quarter with scores tied at 4-all.
Troumaca Mustangs maintained their first-quarter start early in the second, and kept their opponents at bay to enjoy a 9-6 lead at the end of the second-quarter.
The third period was even better for the Mustangs, as they extended their lead by four goals at the end of the third-quarter. In the context of the low-scoring encounter, the Mustangs must have felt they were comfortably placed, leading 12-8, with one quarter remaining.
The Bethel Young Lasses came storming out, determined to leave nothing in the tank during the fourth and final quarter. They stopped the Mustangs' scoring, allowing them only one goal in the quarter, while netting four themselves. But with seconds to go,the Mustangs managed to hold off one last surge from their opponents to complete the win and secure the championship.
Earlier, in what was expected to be a heart-stopping, exciting, third-place play-off between the 2020 champions Teachers Combined and BSS Warriors,that excitement fizzled out. BSS Warriors did not need to break a sweat, as they took the bronze with a win by default over the Teachers Combined, who failed to show up for their encounter.
The following awards were distributed at the prize-giving ceremony following the conclusion of the finals.
Tournament MVP-Samayaa Connell
MVP of Final – Samayaa Connell
Best Defender – Shania Pompey
Best Mid Court player – Jenicia Jackson
Best Shooter – Denel Creese
MVP Semi Final 1- Jenicia Jackson
MVP Semi Final 2 – Denel Creese
DTVE Final Year MVP – Shania Pompey
BSS Warriors MVP – Khalia Miller
SVGCC Freshers MVP – Marsha Marshall
Bethel Young Lasses MVP – Samayaa Connell
Teachers' Combined MVP – Asheika Castello
DASGS Final Year MVP – Ralicia Carter
Troumaca Mustangs MVP – Kristiana Christopher
Third place – BSS Warriors
Second Place – Bethel Young Lasses
Champions – Troumaca Mustangs