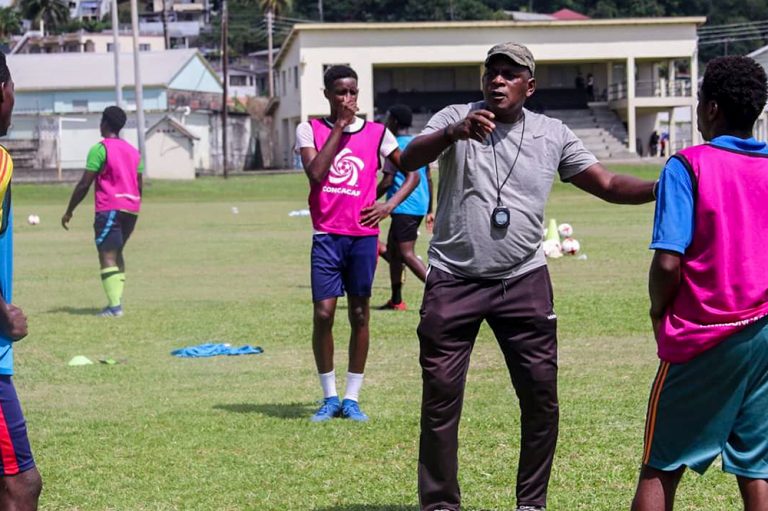 Football coaches seeking certification
The 22 local football coaches who are currently pursuing the C licence course are in high gear, as they seek their certification.
Among the participants are the coaches of the various national teams, as well as head coaches of the 10 premier clubs under the aegis of the St Vincent and the Grenadines Football Federation.
It is the first time this course is being conducted in St. Vincent and the Grenadines by local instructors headed by Theon Gordon, the Director of Technical Matters, with support from Kendale Mercury, Ralph Stowe, Alfred Grant, Wayde Jackson, Andrew Bramble and Roxell John
Apart from the local facilitators, FIFA Regional Technical Consultant, who also serves as a CONCACAF Coaching Educator, Lenny Lake, was here recently for three days, lending his expertise.
According to a release from the secretariat of the SVGFF, the purpose for Lake's visit was two-fold, as in addition to being involved with the CONCACAF C License Coaching Course, he also conducted assessment sessions for coaches participating in the CONCACAF B License course, which is currently not being facilitated through the Football Federation, but by CONCACAF itself.
Following the completion of the C licence with the present cohort, the intentions are for coaches of different levels to have their turn to be certified.
The objective is to train another 50 coaches in 2022.  It is anticipated that two courses will be staged, with the coaches divided into batches of 25 each.