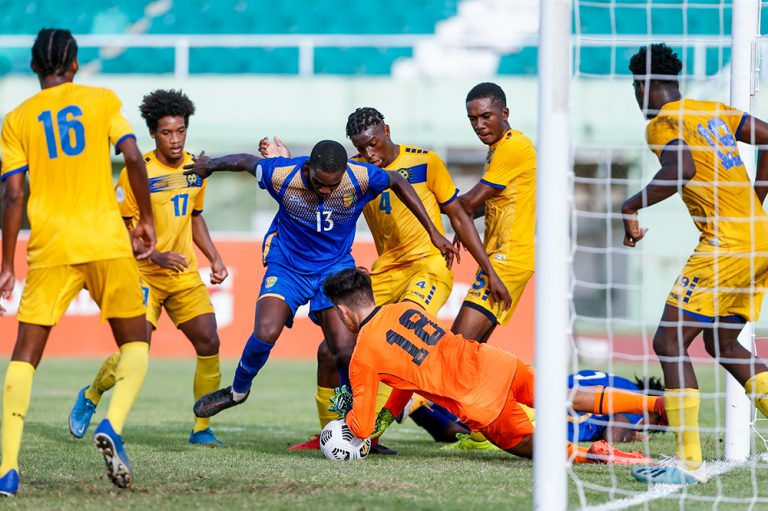 Under-20 footballers end campaign on winning note
St Vincent and the Grenadines ended their CONCACAF Under-20 qualifiers on a winning note last Wednesday in the Dominican Republic, with a 2-0 triumph over Barbados at the Felix Sanchez Stadium.
Oryan Velox scored in the 61st minute and Bishon Richards in the 68th, both from the penalty spot, to give the Vincentians the victory in Group C.
The Vincentians were hoping that Puerto Rico would beat Bermuda, but got more than they expected. Puerto Rico romped to an emphatic 6-0 victory, thus booking a place to the next round on goal difference.
Puerto Rico, St Vincent and the Grenadines and Bermuda, all ended on six points, from two wins and a loss. Puerto Rico, though, had a superior goal difference of 4, while St Vincent and the Grenadines had a goal difference of two. Bermuda ended on a goal difference of minus two.
St Vincent and the Grenadines got off to a most welcoming start, gaining full three points over Puerto Rico. An administrative foul-up by the Puerto Rico officials, whereby the COVID19 tests information was not submitted to the organisers in a timely manner.
The other fixture on Saturday saw Bermuda edging out Barbados 3-2.
Puerto Rico then defeat Barbados 1-0 and Bermuda blanked St Vincent and the Grenadines 3-0.