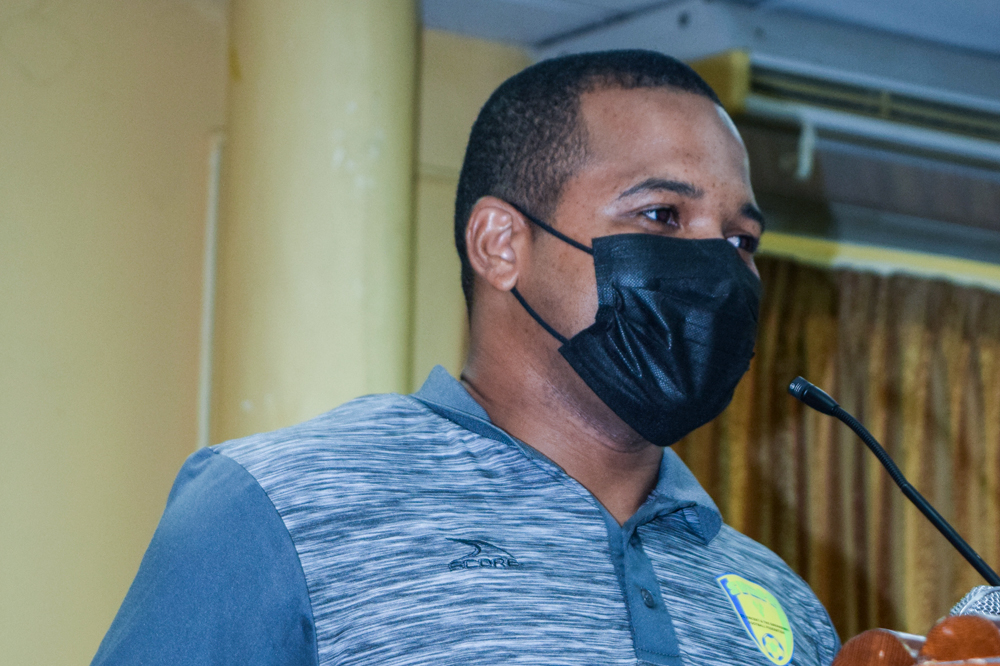 U-20 head coach comfortable with preparations
HEAD COACH OF the St Vincent and the Grenadines male Under-20 football team, Bishon Williams, is cautiously confident of his team's preparations ahead of the CONCACAF qualifiers in the Dominican Republic in November.
Addressing a media briefing last Tuesday morning at the Methodist Church Hall in Kingstown, Williams expressed satisfaction thus far.
"We are well on the way with our preparations… Our preparations are being conducted very well thus far … They guys are very motivated … They (are) working hard and the competition in the training camp is at a high level," Williams related.
Staying safe with his predictions, Williams quipped, "I don't want to say much about what to expect, but I always believe whenever you prepare well it becomes easier".
Williams noted that the players are being finetuned, as they will be engaged in extensive training during a two-week live-in camp at the Technical Centre at Brighton.
Williams' charges are in Group C and are poised to face Puerto Rico on November 6, at 4 pm. On November 8, the Vincentians will oppose Bermuda from 7 pm and on November 8, they take on Barbados.
The other groups are Group A, which involve Curacao, Grenada, Dominica, Saint Maarten and the British Virgin Islands, while the Dominican Republic, Belize, St Lucia, Saint Martin and Anguilla are lodged in Group B.
Occupying Group D are Nicaragua, Guyana, Cayman Islands and the US Virgin Islands.
The four group winners will advance to the 2022 CONCACAF Under-20 championships, joining the top 16 ranked teams.
The ranked teams are the USA, Mexico, Costa Rica, Canada, Honduras, Panama, Jamaica, Trinidad and Tobago, Haiti, St Kitts and Nevis, Aruba, Suriname, Cuba, Antigua and Barbuda, El Salvador and Guatemala.
They will be divided into four groups of four, with the three top teams in each group making it to the elimination stage. All knock-out stage matches will be played in a single match direct elimination format.
The two finalists will qualify for the FIFA Men's Under-20 World Cup in Indonesia 2023 and the 2024 Paris Summer Olympic Games. The two losing semi-finalists will also guarantee their participation in the FIFA Men's Under-20 World Cup Indonesia 2023.