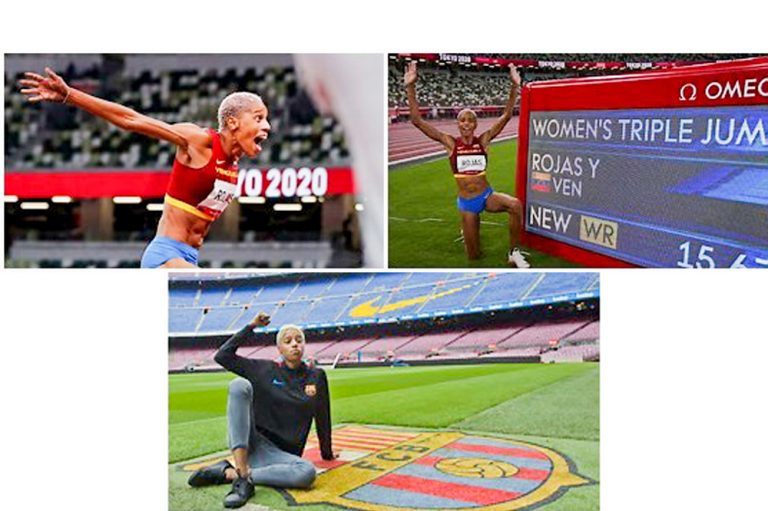 Venezuela celebrates Olympic heroes
VENEZUELANS CONTINUE to revel in and celebrate their country's heroic performance in the 2020 Tokyo Olympics. Led by two-time World champion triple-jumper Yulimar Rojas, also a double World Indoor champion, our Caribbean neighbour had a medal haul of four in the recent Olympics, with three silver medals in weightlifting accompanying Yulimar's gold.
Hers was a special performance. In a country where skin colour had long defined the place of black people in Venezuelan society, she raised the profile of her people and country by not only capturing the triple jump gold medal but achieving Olympic and World records in the attempt.
Her feat, and that of the weightlifters, are even more remarkable given the fact that Venezuela continues to be the victim of crippling sanctions led by the USA which deprives it of the opportunities open to most other athletes. This did not deter Yulimar and her colleagues and as a result, they were honoured by the government of Venezuela at a special ceremony to celebrate their achievements.
The National Assembly has declared August 1 as "The Day of the Golden Generation" to be commemorated annually. It is a tribute to the insistence of the late Venezuelan leader, Commander Hugo Chavez, after the Bolivarian Revolution of 1999 for investment in the youth and sports, especially among black people.
Ironically, another country suffering from US sanctions, Cuba, was the leading Caribbean medal-winner in the Olympics, with seven gold, three silver and five bronze medals. Cuba even finished ahead of such European nations as Spain, Norway, Sweden, Switzerland, Greece and Israel. It also outshone such huge so-called "Third World" countries as India, Mexico, Argentina and Thailand.