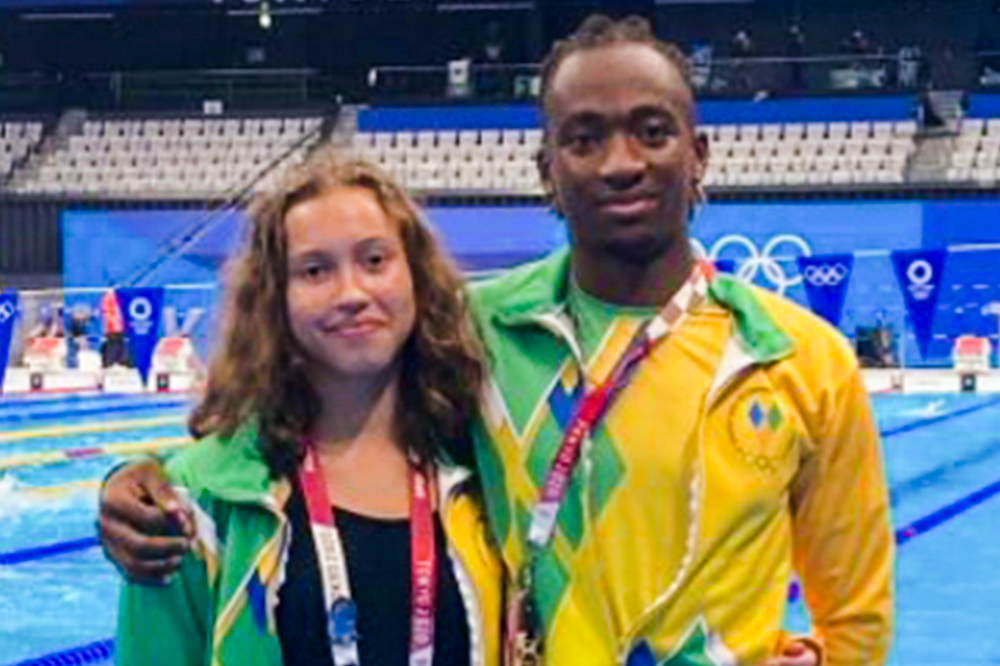 Vincentian swimmers talk up Tokyo Olympics experience
It is nothing more than delight for Shane Cadogan and Mya De Freitas, who got their first experience at competing at the Olympic Games in Tokyo, Japan, last Friday.
And, despite not advancing beyond the first round of their 50m freestyle, being able to represent St Vincent and the Grenadines and achieve their personal best at the prestigious event, are priceless.
Cadogan though was able to win his heat, which to him was in itself an achievement.
"Seeing the Vincy flag on the big screen at the end of race was the most fulfilling experience for me and I hope that I represented the resilience and determination of our people well," Cadogan told SEARCHLIGHT.
Not taking representing his country lightly, Cadogan commented: "I feel beyond blessed to have been able to represent my country at the Tokyo Olympics… All thanks and praise to God for allowing me to realise my biggest dream, and the support from those closest to me, to strangers who wished me well, was so heartwarming, which I used as added motivation".
Reflecting on his preparation for his first Olympic Games, Cadogan noted: "After more than a year filled with so much uncertainty, it was both a physical and mental battle to get to this stage… My coaches would tell me that no one who competes is ever 100 percent, but at the end of the day nobody cares so much, it was my task to go out and do my best regardless".
The 20-year-old Cadogan, before his Japan outing, has attended the Commonwealth Games in Glasgow, Scotland, 2014, the World Championships in Russia in 2015; the FINA World Swimming Championships (25m) held in China 2018 and the World Swimming Championships 2019 in South Korea.
Similarly, 15-year-old De Freitas is cherishing the outing.
"It has been nothing short of an amazing experience and a great motivation to pursue this sport further… Furthermore, it was fascinating to not only compete with but to learn from the performances of my role models and the best athletes in the world," De Freitas related.
Contending that it was not an easy journey, De Freitas revealed, "My preparation for these games consisted of vigorous training in and out of the pool, seven days a week, and a lot of mental preparation… Unfortunately, there have been several hindrances due to the eruption of La Soufriere volcano and a trip to Barbados for my visa, which accounted for over a month out of the pool, and therefore, a lack of confidence leading up to my event…Thankfully, I received an overwhelming amount of encouragement and support from family, coach, and friends".
Reminiscing on her event, De Freitas commented: "Going into my race, I tried to maintain composure despite competing in front of the whole world and I am proud to say that I finished fourth in my heat with a big improvement of 0.77 seconds".
Cadogan's time in his race was 24.71 seconds, while De Freitas clocked 28.57. Cadogan's previous best was 24.73 seconds and De Freitas- 29.34.