Posted on
Athletes make good of National Championships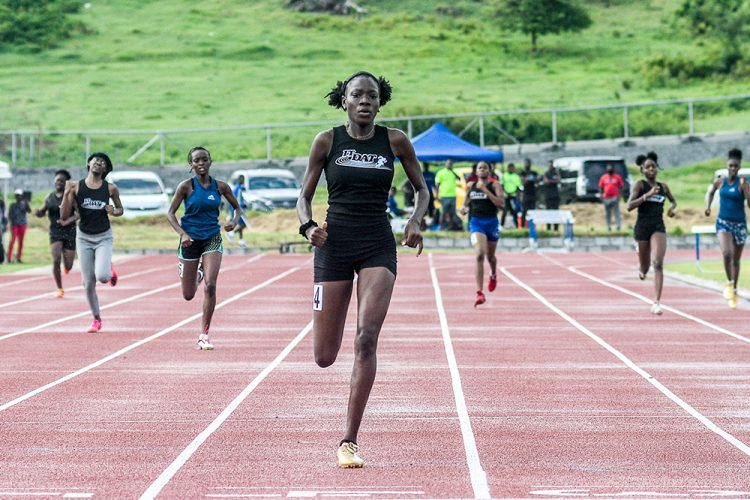 SEVERAL ATHLETES were multiple winners when Team Athletics SVG staged the finals of the National Championships at the Diamond Track last Saturday.
Shonte Matthias of IT-DAT Academy was in dominant mood in the track events for the Under- 17 females category, with victories in the 100m, 200m and 400m. Tyhra Charles, also of IT-DAT Academy, won the 80m, 200m and 400m. Charles competed in the Under-15 female category.
Nellie Ambriton, of Xcel, had double victories in the 800m and 1500m of the Under-20 male category, while Devonte Mack of High Performance (HP) took honours in the male Under-17 100m and 200m.
N' Kenna London won the females Under-15 Long Jump and 1000m, while Rolando Richards took the male Under-15 400 and 800m. London and Richards are from the IT- DAT Academy. Similarly, Sage Primus, also of IT DAT Academy, won the men's 100 and 200m.
Meanwhile, Zita Vincent, of High Performance, won the female over 20 800m and 1500m. HP's Kirk Hamlet, won the Under- 20 Discus Throw and High Jump while X- Cel Track's Godwyn Roban won the senior Long Jump and High Jump.
X- Cel Track won both the men's 4 x 100 and 4x 400m; IT DAT took 4 x 100 women's open and XCeed Sports Club claimed the Under- 15 females 4 x 100m.
The National Championships was the first major event held at the facility, which was officially opened last November.