Posted on
Vincy Heat wilts under Haitian pressure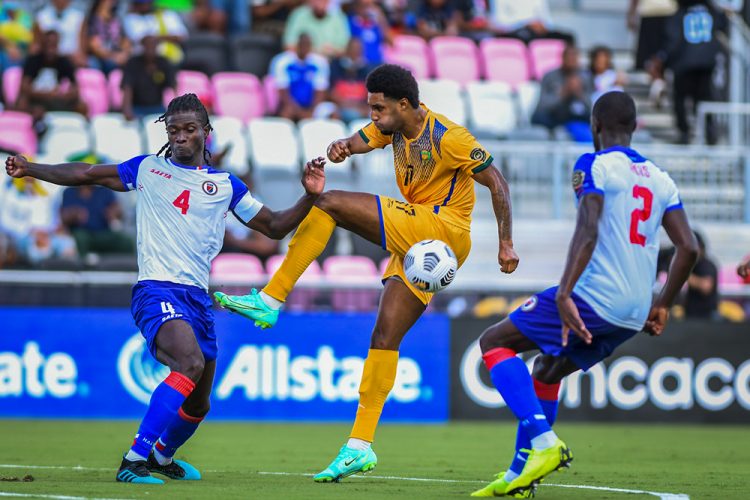 ST VINCENT AND THE Grenadines' senior men's football team, Vincy Heat, was unable to topple Haiti last Friday at the DRV PNK Stadium in Fort Lauderdale, USA, and advance to the next round of the CONCACAF Gold Cup qualifiers.
The Vincentians went into the match chasing the odds with a depleted squad, after seven of the named players were not issued with the necessary visas to travel to the USA. Inclusive of the unavailable players, were no goalkeepers, leaving defender Nigel Small as the makeshift custodian.
Despite their woes, the Vincentians showed spirit, but it was too much for them against a better equipped Haitian side.
Duckens Nazon scored a penalty in the 26th minute to give Haiti the lead, with Frantzdy Pierrot doubling the tally in the 33rd minute. Derrick Etienne Jr., with a penalty in the 37th minute, extended Haiti's domination.
However, Kyle Edwards scored St Vincent and the Grenadines' first Gold Cup goal, when he skillfully rounded the opponent's goalkeeper after a free-kick in the 42nd minute.
Edwards' goal though was all the Vincentians' had to show, as the second half was scripted as the first, when Haiti turned up the pressure.
Nazon made it 4-1 in the 59th minute, while defender, Jahvin Sutherland, turned the ball past his own goalkeeper, to make the scoreline 5-1 in minute number 72. Carnejy Antoine made it 6-1 in the 90th minute.
Also, on Friday, Bermuda smashed Barbados, 8-1 and Trinidad and Tobago overcame Montserrat, 6-1.
On Saturday, Guadeloupe beat the Bahamas two-nil, French Guiana easily won by forfeiture over Cuba, after the Cubans were unable to reach the US because of positive Covid cases and US visa issues, and Guatemala blanked Guyana 4-0.
The second round match-ups set for today, June 6, feature Haiti versus Bermuda, Trinidad and Tobago against French Guiana and Guadeloupe meet Guatemala.
Second round winners will gain berths of the group stage of the Gold Cup.