Posted on
Local athletes warming for National Championships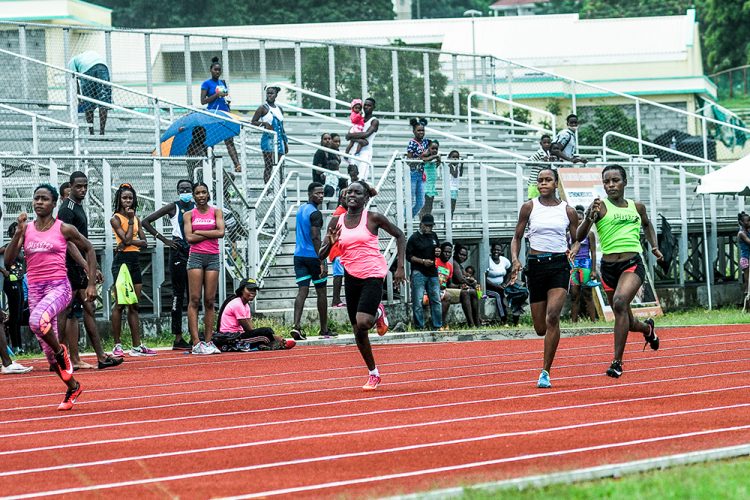 Local athletes are heating up for the National Championships set for the Diamond Track Facility, July 3 and 4.
But they have to go through two days of trials for qualification to make it to the grand finale. The first round of the trials took place last Saturday at the same venue.
Among those who led their respective age-groups was Kyle Lawrence of IT- DAT Academy, with a time of 11.10 seconds in the Under-20 males 100m. That time put him as the top qualifier.
In the male Under-17, it was High Performance's Devonte Mack who led the pack. Mack's time was 11.55 seconds.
Also, Shonte Matthias of IT- DAT Academy registered the fastest time in the 100m for Under-17 females. Matthias' clocking was 12.83 seconds. She also had the lead time of 1:05.93 in the 400m event.
Meanwhile, recording a time of 54.11 seconds, was Rolando Richards of IT- DAT Academy in the male Under-15 age group.
Grenisha Thomas, who also competes for IT- DAT Academy, clocked 12.73 seconds to lead the females Under-20 100m charge.
Continuing with the females, Zekisha Kelly of Mustangs did 3:41.34 in the 1000m.
Up the age group, Zita Vincent of High Performance, as she works her way back to track and field after a lay-off, recorded a lead time of 5:17.98 in the 1500m, for female athletes in the open category.
And, Nellie Ambriton easily crossed the finish line first in the male Under-20 1500m, clocking 4:21.37.
The second and final day of trials, takes place this Saturday at the Diamond Track Facility.