Posted on
Hikers stay at the summit in VPL 3.0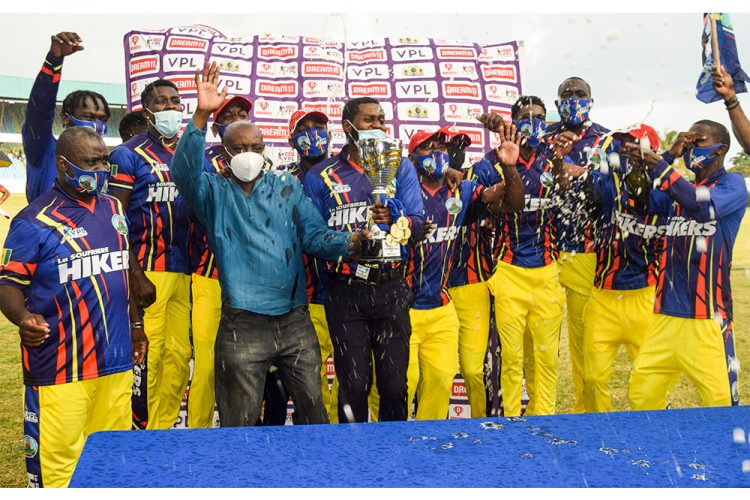 LA SOUFRIERE HIKERS RETAINED the Dream 11 Vincy Premier League (VPL) T/10 cricket trophy, with a one-run win over Dark View Explorers in last Sunday's final at a packed Arnos Vale Playing Field venue.
Sent into bat, Hikers reached 107 for 5 from their 10 overs, Othniel Lewis hit 35, with four and 4 sixes and Benniton Stapleton scored 23 not out, hitting 3 sixes. Sealron Williams took 2 for 17.
Explorers replied with 106 for 4. Romano Pierre scored 45, in which he struck 2 fours and 5 sixes and Deron Greaves scored 22.
Bowling for Hikers, O' Jay Matthews picked off 2 for 13 and Benniton Stapleton, 2 for 28.
It was the third win for Hikers over Explorers in four meetings at VPL 3.0 Hikers advanced straight to the final, beating Explorers by seven wickets in Friday's first qualifier.
Sealron Williams topscored with 26, as Strikers scored 77 for 6 from their 10 overs after choosing to bat.
Dillon Douglas picked off 3 for 24, bowling for Hikers.
Salvan Browne hit 41, as Hikers reached 80 for 3, with 2.1 overs to spare.
Rayan Williams was Explorers most successful bowler, taking 2 for 15.
Explorers reached the final on Saturday, with an eight-wicket win over Fort Charlotte Strikers.
Sent into bat, Strikers conjured up 101 for 4 from their 10 overs. Miles Bascombe and Cosmus Hackshaw scored 27 each, and Sealroy Williams hit 25. Rayan Williams took 2 for 21.
It was then the Romano Pierre show, as he lashed 1 four and 7 sixes in 65 not out and along with Lindon James' 16 not out, saw Explorers to 102 for 2 from 9.1 overs.
On Friday, Fort Charlotte Strikers eeked out a four-run win over Salt Pond Breakers, to set up a meeting with Explorers in the second qualifier.
Miles Bascombe struck 3 fours and 2 sixes in his 36, and Sealroy Williams chipped in with 18, to lead Strikers to 88 for 4. Sunil Ambris picked up 2 for 20.
Breakers' response stopped at 84 for 8 from their 10 overs. Andrew Thomas hit 32, while Ray Jordan took 3 for 5 and Nigel Small, 2 for 17.
Grenadines Divers and Botanical Gardens Rangers, the other two teams in the tournament, finished fifth and sixth, respectively.