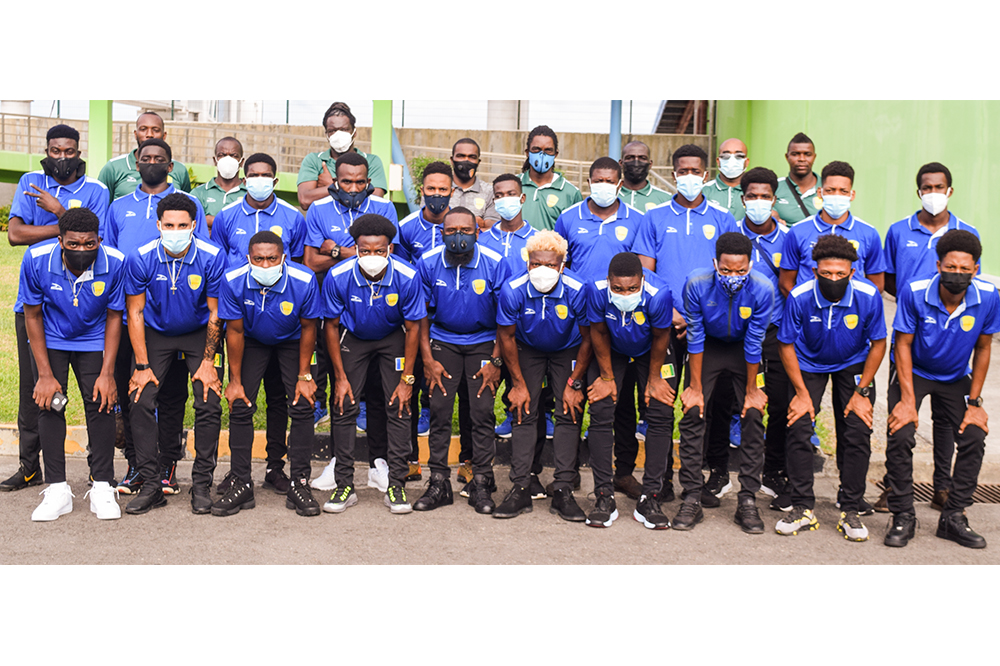 Vincy Heat off to Grenada in preparation for Group C
The national senior men's football team "Vincy Heat" left for Grenada on Monday, where they will continue preparations for their upcoming Group C matches in the CONCACAF World Cup Qualifiers.
Those making the trip include Camal Bess, Josh Stowe, Garwin Davis, Jadiel Chance, Mark Browne, Kyle Edwards, Gidson Francis, Trivis Fraser, Dorren Hamlett, Kishawn Johnny, Terrason Joseph, Kennijah Joseph, Ted Roberts, Brad Richards, Zidane Sam, Renson Sayers, Marlon Simmons, Jahvin Sutherland, Oryan Velox, Kurtlon Williams and Jamal Yorke.
They will be joined by Maldives-based Cornelius Stewart, Canada-based duo of Tre Crosby and Tristan Marshall and Akeem Williams, who is based in Antigua and Barbuda.
Nazir Mc Burnette is to join up with the squad following his club's sojourn in the FLOW CONCACAF Caribbean Club Championships, taking place in the Dominican Republic.
The management team includes manager Renson Haynes, head coach – Kendale Mercury, assistant coaches – Jason Waldron and Alfred Grant, goalkeeper coaches – Kevin Richardson and Melvin Andrews, along with Shandel Samuel – striker coach and fitness trainer – Rex Pollard. Committee member of the SVGFF and former team manager Othnell Douglas is part of the touring party.
The Vincentians are being hosted by the government of Grenada and the Grenada Football Association, granted the recent developments of the volcanic eruptions here in St Vincent and the Grenadines.
The players who make the final cut will leave Grenada on June 1 for Guatemala, where they will meet the host country on June 4.
Vincy Heat will swing back to Grenada for their encounter against Cuba at the Kirani Athletics Stadium on June 8.
The mandatory quarantine period instituted by the health authorities here in St Vincent and the Grenadines, has once again forced Vincy Heat to play their home match in a neutral country.
The Vincentians played the British Virgin Islands on March 30 at the Ergillo Hato Stadium in Curacao, wining 3-0.
In their first match of the campaign, played March 25 at the same venue, the Vincentians were whipped 5-0 by host Curacao.