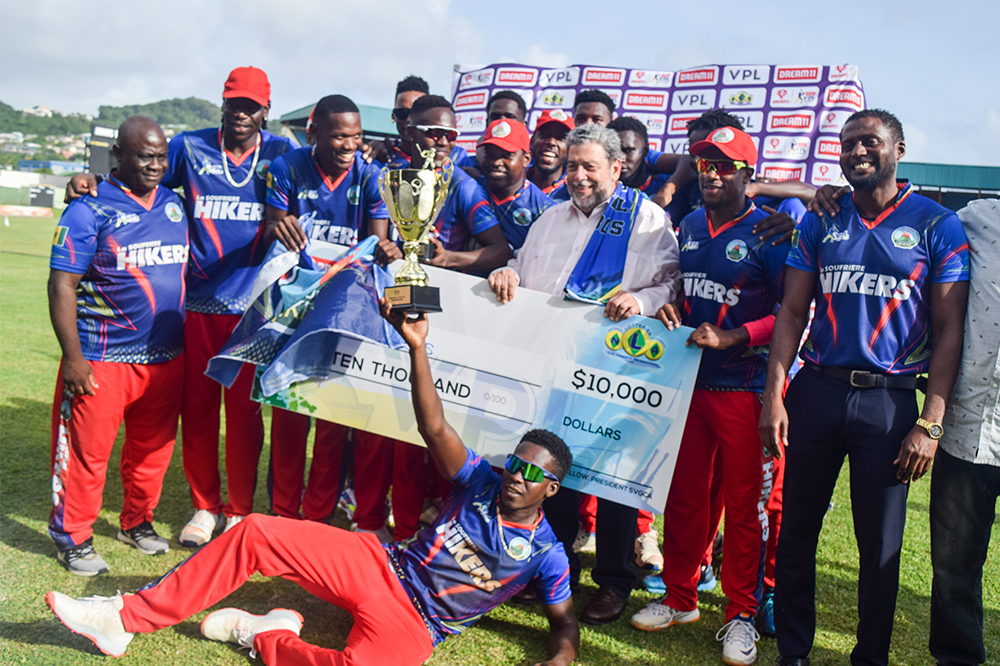 VPL 3.0 bowls off tomorrow
The Dream 11 Vincy Premier League (VPL) 3.0 bowls off tomorrow, Saturday, May 15, at the Arnos Vale One Playing Field.
Getting the third edition going will be the match-up featuring defending champions La Soufriere Hikers versus Fort Charlotte Strikers from 12:30 p.m., then Botanical Garden Rangers take on Dark View Explorers from 2:30 p.m.
Sunday's fixtures pit Fort Charlotte Strikers against Botanical Garden Rangers from 12:30 p.m., to be followed by Salt Pond Strikers versus Grenadines Divers, from 2:30 p.m.
Meanwhile, Day three matches are Grenadines Divers against La Soufriere Hikers from 12:30 p.m. and Dark View Explorers play Salt Pond Breakers from 2:30 p.m.
The format of the tournament sees the six franchises meeting one another twice.
Following the preliminary round, the four top teams will meet in the play-offs.
The play-offs will see the first-place team taking on the second place in eliminator one and the third and fourth places going head to head in eliminator two.
The winner of eliminator one heads straight to the final. The loser of eliminator one will meet the winner of eliminator two, to determine the other finalist.
Sunday, May 30, is the date set aside for the grand finale. However, May 31 has been designated as the reserve day for the final.
This is how the six franchises are stacked.
Botanical Garden Rangers: Donald Delpesche, Dorson Cottle, Eaton Gibson, Jahiel Walters, Jordon Samuel, Keron Cottoy, Wayne Harper, Kesrick Williams, Kimali Williams, Reshawn Lewis, Urnel Thomas, Winston Samuel, Zimron Providence. Coach – Nixon Mc Lean, Manager – Elvis Browne.
Dark View Explorers: Alex Samuel, Dean Browne, Deron Greaves, Drumo Toney, Jade Matthews, Kody Horne, Lindon James, Luke Wilson, Maxwell Edwards, Rayan Williams, Romano Pierre, Sealron Williams, Shammon Hooper. Coach – Kenroy Martin, Manager – Elron Lewis.
Fort Charlotte Strikers: Chelson Stowe, Cosmus Hackshaw, Geron Whyllie, Gidron Pope, Kevin Peters, Kirton Lavia, Leshawn Lewis, Miles Bascombe, Nigel Small, Rasheed Fredericks, Ray Jordan, Sealroy Williams, Shaquille Browne. Coach – Bertram Stapleton, Manager – Parnell Browne.
Grenadines Divers: Asif Hooper, Braxie Browne, Davian Barnum, Javid Williams, Kadir Nedd, Kenson Dalzell, Kevin Abraham, Razime Browne, Richie Richards, Romario Grant, Shem Browne, Tilron Harry, Wesrick Strough. Coach – Ian Allen, Manager – K'Shaka Cupid.
La Soufriere Hikers: Anson Latchman, Atticus Browne, Benniton Stapleton, Camillo Cain, Desron Maloney, Othniel Lewis, O' Jay Matthews, Kemron Strough, Javid Harry, Romario Bibby, Salvan Browne, Sylvan Spencer. Coach – Irvin Warrican, Manager – Cameron Harry.
Salt Pond Breakers: Andrew Thomas, Delorn Johnson, Denson Hoyte, Jeremy Haywood, Jeremy Layne, Sunil Ambris, Seon Sween, Rickford Walker, Ozico Williams, Kensley Joseph, Tijourn Pope, Javon Samuel, Sheldon Hooper. Coach – Olanzo Jackson, Manager – Ricky Grant.