Posted on
Maloney resets national women's indoor 800m record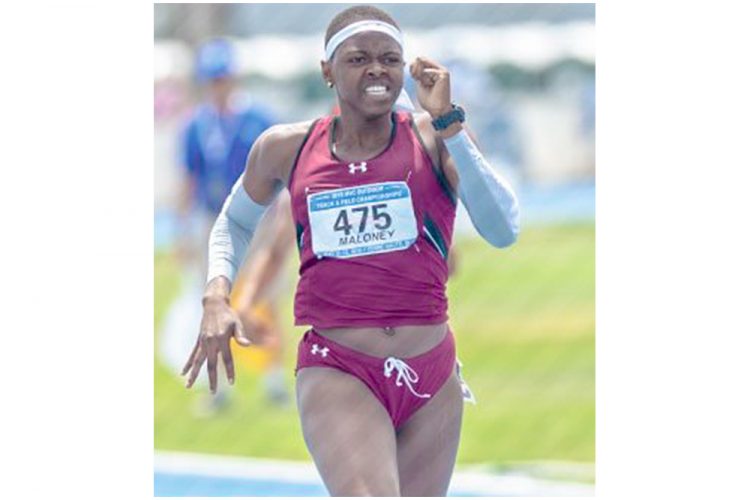 Shafiqua Maloney revised the women's indoor 800m record at the Tyson Invitaional held at Randall Tyson Field in Fayetteville, Arkansas, last Saturday, when she finished first over the distance.
Maloney stopped the clock at 2 minutes 04.65 seconds.
Maloney's time eclipsed the previous St Vincent and the Grenadines best of 2 minutes 12.39 seconds, done by Kineke Alexander back in December 2009, also in the USA.
Apart from setting a new national mark, Maloney also established a personal best in the event.
But she was not done, as Maloney, also last weekend, lowered her personal best in the 400m. After resetting her time in the 400m last month at the Razorbacks Invitational, Maloney on Friday, also at the Tyson Invitaional, clocked 52.51 seconds. Her new time bettered that of 53.09 seconds.
And during the record-setting weekend, Maloney was part of the Arkansas University Distnace Medley Relay quartet that re-established a new meet time, when on Friday her time was 10 minutes 53.77 seconds.
In the process, the Arkansas team broke the 13-year record which Tennesse held when they did 11 minutes 11.32 seconds at the Tyson Invitational, back in 2007.
Maloney is a senior student at the Arkansas University. Before St Vincent and the Grenadines for the USA, Maloney attended the Thomas Saunders Secondary School, as well as the Verchilds High School in St Kitts.