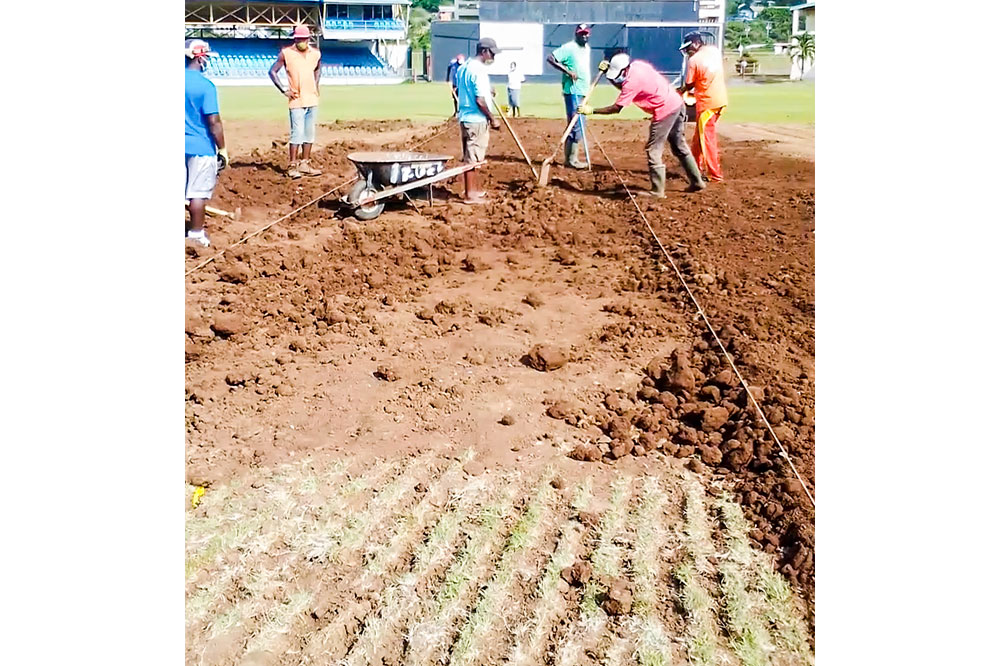 Arnos Vale One cricket pitches get new soil
The cricket square at this country premier ground, the Arnos Vale One Playing Field, is undergoing some enhancement, with the top soil being replaced.
The last time any extensive work was done on the square was ahead of the 2007 Cricket World Cup, when the Arnos Vale venue hosted warm-up matches.
According to facilities manager at the National Sports Council, Lance John, " It is recommended that pitches be dug up every eight years, and it is now 13 years, so it was overdue".
John noted that the delay in the work was protracted because, "We could not idenify the right type of soil with the clay content".
" It was not until the the last two months we identified some soil at Diamond and this proved to be right type, as after we sent a sample at BRAGSA for testing, we found that it had 88 percent clay content," John related.
The work entails the removal of the top soil on the square and replaced by new soil, and the replanting of grass.
The NSC facilities manager disclosed that they are working closely with Cricket West Indies pitch specialist Kent Crafton.
A beaming John noted that granted the revelations by Crafton, it is rare to find soil in this region with that amount of clay content, he is hopeful that when completed, the Arnos Vale pitch will be one of the best in the Caribbean.
"We are working with schedule and well mapped out… We have timeline and I anticipate that the work will be done within the next six weeks, making the venue ready for cricket by the end of March, early April," John projected.
Before that, John is confident that should the CONCACAF World Cup qualifiers be hosted as planned, the pitch will be completed in time for St Vincent and the Grenadines' home match versus the British Virgin Islands in March.
John said that he does not foresee any hiccups, as they are on schedule with the work.