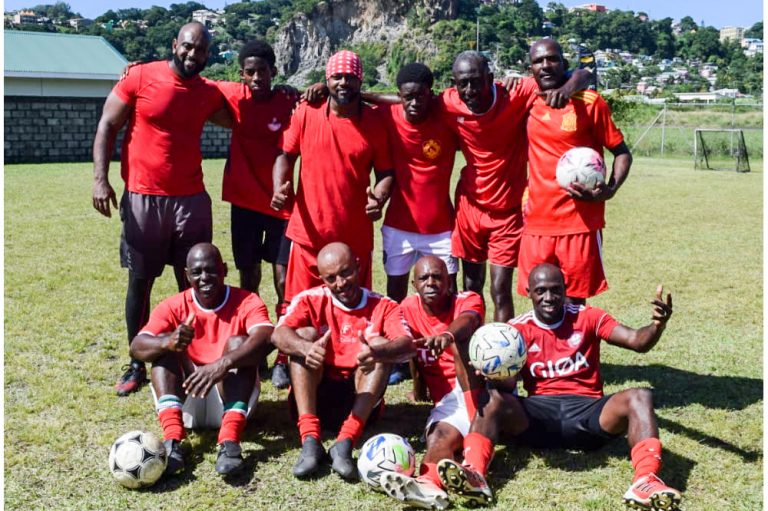 Red Team wins Sweaterz small goal football title
The Red Team, captained by Dexter Walker, stood tall, winning the first ever Sweaterz Christmas Day five-a–side small goal competition.
Held at the back of the Netball Complex at the Arnos Vale Playing Field, Red Team beat the Blue Team one-nil, via Matthew Jackson's goal, thus gaining bragging rights until 2021.
Blue Team finished second, with Green third and Orange, fourth.
Jackson's winning goal was the second goal on the day, thus earning him the goal of the day, as he also tied with team mates Geovanni Bascombe and Ezron Holder, as the joint top goal-scorer.
Jackson added the awards of best Under-23 player and player of the day accolades to his collection.
Meanwhile, Dimitri Walker of the Red Team was the youngest player on show, while 68-year-old Michael Ollivierre was the oldest player.
Jerome Samuel of Red Team was adjudged the best defender, while Rohan Keizer copped the award for the best Over-40 player.
Special awards were also presented to Melisia Lewis and Charlie Thomas, for their tireless contribution to the competition's success.
The prizes were donated by firms and individuals who came to the aid of the competition's committee.
Attracting over 50 players who were registered for the competition, the selection was done by them picking for either of the four competing teams.
Chief organiser of the inaugural competition, Dexter Walker, summed up the day's activities as "pleasing".
He said that he anticipates a change to a larger venue for the next edition in 2021, but with the same format.
"The format won't change, we want to keep it small, but efficient," Walker promised.