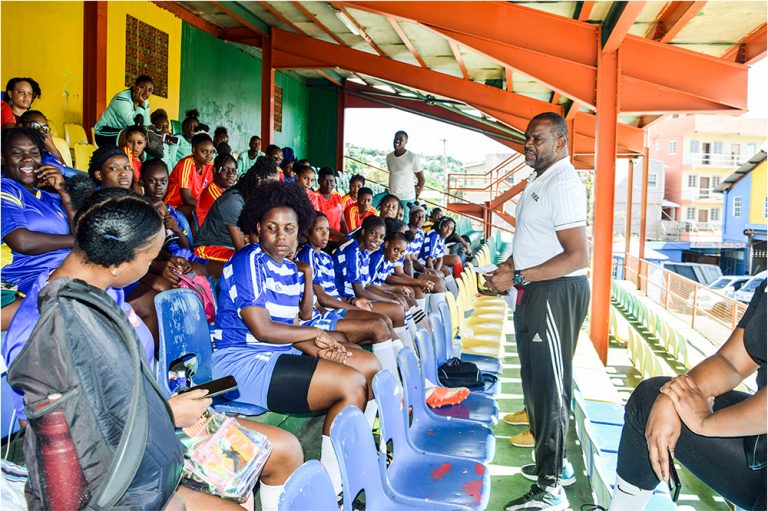 SVGFF praised for female initiative
Commendations were high for the female committee of the St Vincent and the Grenadines Football Federation for its intiative last Saturday, during the female Fun Day, to have the players get an insight of other aspects of the sport.
At last Saturday's festival, the teams were briefed in the Laws of the Game, what is entailed in Match Commissioning, match co-ordination, along with the assessment of referees and refereeing.
Some of the resource personnel used in these aspects were Lorson Lewis, Bert Francois, David Lewis, Caswell Cambridge, Germando Douglas, among others.
The players in turn, were given opportunities to do first hand, the aforemetioned aspects, during the matches played among the teams present.
Commending the SVGFF's effort was former national footballer Guy Lowe, who lauded the undertaking as a "good one".
Lowe who watched the proceedings said that he has seen "one or two" of the females who have a good understanding of refereeing.
Lowe's positive comments were echoed by coach of the Owia United team, Dwight Baptiste.
Commenting on the initiative, Baptiste said, "It was a good effort and I embrace the idea… When I look at the three girls from my team who volunteered to operate as match officials, I realise they are interested".
Baptiste said the next steo is for more teaching of the Laws of the Game be done at the club level, which will assist in the females having a better understanding of the sport.
The Owia United coach is also suggesting that the referees' committee begin to look for a new cadre of referees, and can start with some of the young females who are showing that desire to pursue officiating.
Second vice-president of the SVGFF, who also praised Saturday's event, noted that it was all part of the development and assessing the state of female football here in St Vincent and the Grenadines.
"With the female competition of the National Club Championships coming up, we just wanted to do an assessment of the level female footballers within the clubs… So we thought having such an activity we would see what the clubs have to offer," Grant reported.
The female division of the 2020/2021 SVGFF National Club Championships will kick off early in 2021.