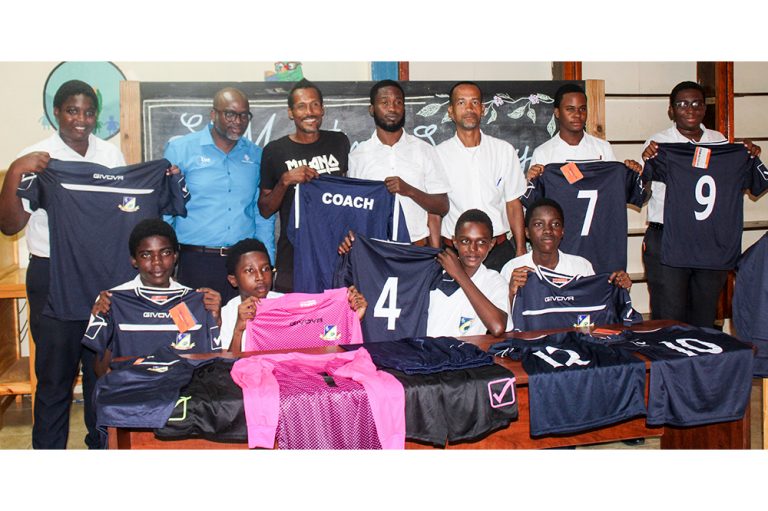 SMSS gets new football uniforms
The most recent donation of football uniforms to the St Martin's Secondary School is sure to boost morale and the overall sports programme at the all-boy institution.
The brand-new uniforms were handed over on Friday, December 4, by Stephen Walrond and Syran Clarke, past students from the class of 1994, during a small ceremony on the school compound.
Walrond said the initiative was one that has been in the works for at least four years, with past students expressing an interest in giving back to an alma mater that has taught them the pillars of honesty, ambition, respect and pride.
The past student reminisced of being a part of the school's football team that created history by being the last secondary school to win the national competition three years in a row: 1990,1991 and 1992.
He said he was also a part of the Under-16 team that won the Inaugural National Under-16 tournament in SVG in 1989.
Walrond told students present that the contribution of school uniforms could not be possible without past students in the Diaspora, namely Kirth Noel, Max Toppin, Junior Christopher, Jenson George, Clinty Joseph, Shaun Bullock, Brian Romeo, Rodney Grant, Marcus Louison, Edley Samuel and Marlon Johnson.
"This is our small token of appreciation for the St Martins Secondary School…when you graduate from school, it's a badge of honour," the former SMSS footballer said. "These gentlemen unselfish and…warm and very thoughtfully said we're gonna gather these things, buy them and send them back home and we will ask Mr Walrond and Mr Clarke himself to do the handing over…"
Walrond added that it was time that the school got back on the road of being champions, just as it had been in previous years.
When Syran Clarke, another past student attended the SMSS from 1989 to 1994, he recalled the institution being on top when it came to football, athletics and academics.
"Every time you see St Martins on a football pitch, the other teams would be running scared and we built up a team that was…very successful…in terms of academics, we did not fall down there," he said at last Friday's handover ceremony.
Clarke noted that excelling in all facets required balance and he encouraged students to do the same.
He particularly encouraged skilful sportsmen to focus on their sport, whether football, athletics or cricket, but to always remember that academics will be helpful in achieving future goals.
Asa Thomas, one of two physical education teachers at the school agreed with Clarke, noting that the school aspires to produce young men who are well rounded, not only in sporting disciplines but in education as well.
Thomas also commented on what the uniforms meant to the SMSS football team.
"This will definitely go a long way in terms of our sports programme. We really appreciate the past students. They have been actively supporting us for years, for the years that I have been here and we really appreciate it. It will go a long way," he said.
The teacher also acknowledged the continued support of past students and said the donation of uniforms was just another step in the longstanding relationship between the school and its past students.
Shanda Boyea, the acting deputy principal also delivered remarks last Friday, during which she thanked the students for their contribution and continued support.
She said the uniforms will no doubt give the team "that added boost and confidence that they need so that, when they go out there, they feel that they are equals with whomever they're playing against".
Boyea said that past students continue to fill the areas where the school is in need.
"And we are really, really grateful for that. We hope that we can continue the relationship, not only to give and get physical or material things, but certainly, to help bring our current students along to the point where they feel proud to be a past student, where they feel proud to be a student of St Martin's," she said.