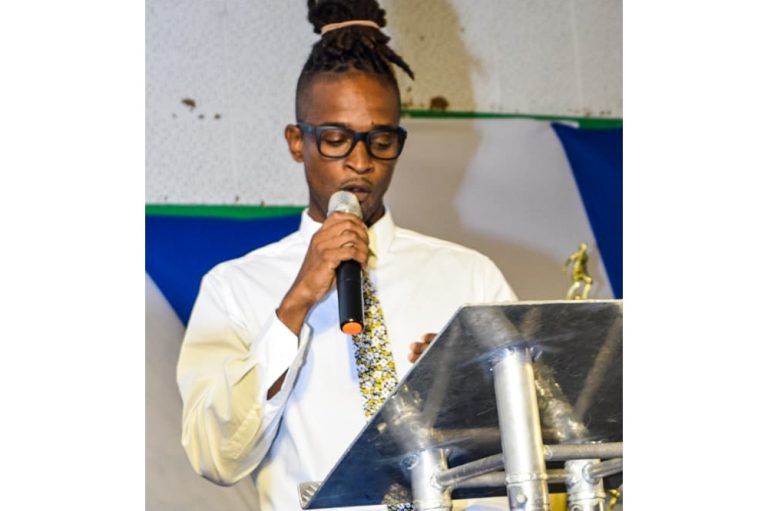 'No square pegs' – Theon Gordon
Theon Gordon, the feature speaker at last Thursday's awards ceremony of the 2019/2020 SVGFF National Club Championships, held at the Russell's auditorium, has implored the need to have the right persons in place to administer football here.
Gordon, who was addressing the topic: "A football marriage, a future of possibilities", stated that in order to drive football forward, "we need passionate, knowledgeable, experienced persons with the right leadership qualities".
He cautioned though, of "avoiding placing square pegs in round holes".
This was Gordon's summation as he gave some of the areas that must get going for St Vincent and the Grenadines' football to realise that future of possibilities.
Laying the base for astute and capable administrators to govern SVG's football, Gordon proposed, a "Well organised structure for both youth and adults leagues."
"It goes without saying how important a well-organised structure is for the development of all stakeholders… Our competitions must be aligned with the international standards… Considerations must be taken for the regional and international competitions and our local culture," Gordon emphasised.
In addition, Gordon thumbed, "Having a long-term development plan for all stakeholders", as another important element to better shape the country's football.
"There needs to be a shared vision, mission and philosophy… People and organisations need to have clearly defined roles and functions within the system… Too often, we have been focussing on stop gap methods and solving problems as they pop up instead of proactive and making moves to get us to where we need to be," Gordon related.
Strengthening the claims for the marriage to be fruitful, Gordon cited player development as key.
"There needs to be a proper player pathway. We must develop players able to meet the demands of the sport at the highest level… Only a comprehensive player development process can help us to do this… Our aim should be to secure life-long players and fans of the game from the youngest to the oldest and to enable talent to be developed to its fullest potential," the feature speaker indicated.
Scaffolding Gordon's ten-point plan are his recommendations for proper support by the administrative and technical arm of SVGFF, inclusiveness, research and data collection, data analytics and proper mentoring and evaluation of all football programmes.
One who is integrally involved in football, Gordon plays for Je Belle in the premier division of the National Club Championships. Gordon holds a Bachelor's Degree in Sports Management and Technology, gained from the Universidad Deportiva del Sur, Venezuela.
A teacher by profession, Gordon has also served as captain and manager of the SVG men's senior football team, and has represented SVG at the age group level.
At present, Gordon is a cerfified CONCACAF C licence coach and a CONCACAF instructor.