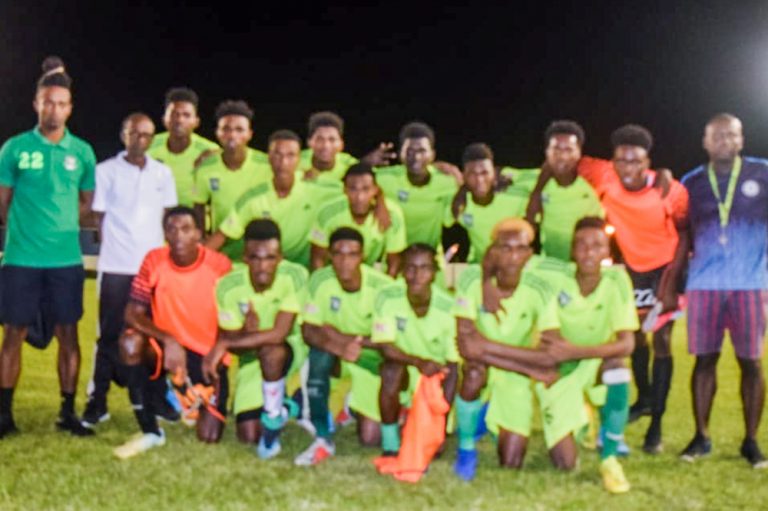 Je Belle champs SVGCC invitational football 2020
After placing third in last year's French Verandah National Lotteries Authority SVG Community College invitational football competition, Je Belle Youths rose to the top last last Friday night at the Victoria Park, to be crowned the 2020 champions.
Facing Just Graduated in the final, Je Belle Youths took the lead as early as the 3rd minute, when Kadeem Duncan, made good of a simple tap in.
The match, though, then lost some of its spunk, until the 73rd minute, when Garett Leigertwood netted the equaliser from the penalty spot.
This proved to be the final goal in the match, thus sending the decider into penalty kicks.
In the decisive penalty kicks, Je Belle Youths emerged 5-3 winners.
Before the final, Year One Technical and Vocational took the third place with a one-nil win over Year Two Arts, Sciences and General Studies. Akeem Davis scored the winner in the 61st minute.
Rewarded at the closing and presentation was Shaielle Williams of Year One Technical and Vocational Education, who was the MVP of the semi-final one, as well as the third place play-off. Williams was the lone female to play in the competition.
Meanwhile, Zidaine Sam of Jebelle Youths was adjudged the best striker, the MVP of the final and the MVP of the competition.
Other individual awards went to Devarno Bynoe of Jebelle Youths, who was named the best defender; Jahva Audain of Year One Technical and Vocational Education, the best midfielder, with Esrick Charles of Year Two Arts, Sciences and General Studies, taking the best gaolkeeper accolade.
Jahseem James of Hope International, scored the most goals, nine and Kadeem Duncan of Jebelle Youths got the award for scoring the best goal in the final.