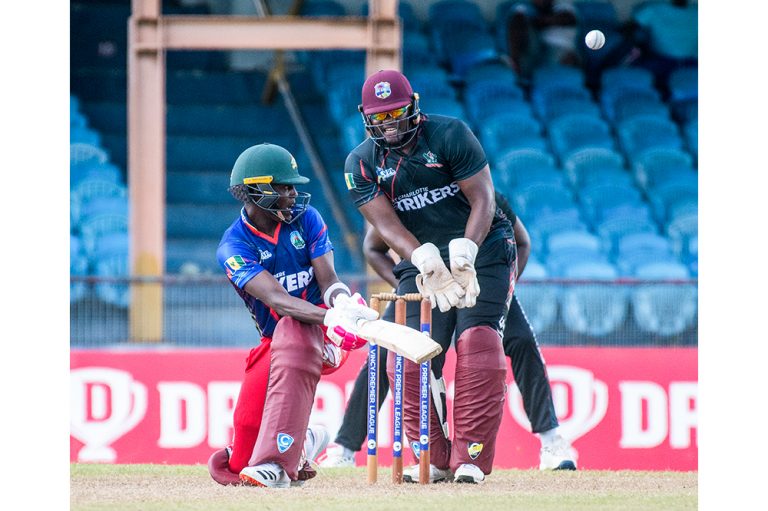 Botanical Gardens Rangers lead VPL after two rounds
After two rounds of matches, Botanical Gardens Rangers are leading the second edition of the Dream 11 Vincy Premier League (VPL), 10/10 cricket competition which got going last Saturday at the Arnos Vale Playing Field.
On Saturday, Botanical Gardens Rangers defeated Grenadines Divers by nine wickets in a rain affected match.
Grenadines Divers posted 114 for 3 from their 10 overs, with Tyrone Theophile making 61 not out. The Dominican lashed 2 fours and 7 sixes. Wayne Harper contributed 32 not out.
Botanical Gardens Rangers needed 41 to win from 3 overs, after a rain interruption caused a reduction in the overs. Grenadian Emmanuel Stewart slammed 3 fours and the same number of sixes in his 33 not out, as the Rangers crossed the line at 43 for 1 from 2.3 overs.
Then on Monday, in another rain affected fixture, Botanical Garden Rangers whipped La Soufriere Hikers by 26 runs.
Reduced to five overs per side, Emmanuel Stewart slammed 5 fours and 4 sixes in his 46 not out and Hyron Shallow hit 25 not out, as the pair put together 72 without loss for Botanical Garden Rangers.
In reply, La Soufriere Hikers reached 86 for 5 from their five overs. Kavem Hodge and Dillon Douglas both scored 16, while Zimron Providence scalped 3 for 7.
But also on Monday, defending champions Salt Pond Breakers and Fort Charlotte Strikers saw their fixture ending in a no-result, because of rain.
Salt Pond Breakers had raced to 123 for 5 from their 10 overs, with Sunil Ambris striking 9 fours and a six in his knock of 61 from 31 balls. Kirton Lavia picked off 2 for 22.
Fort Charlotte Strikers were 10 for 4 from 2.5 overs, when rain ended the match prematurely.
Salt Pond Breakers were coming off a win when the outplayed Dark View Explorers on Saturday.
Salt Pond Breakers accelarated to 138 for 6 from their 20 overs; Ryan John of Grenada led with 46 not out, smothering a four and 5 sixes. Sunil Ambris was next with 27.
Dark View Explorers fell short by 39 runs, ending at 99 for 3 from their alllotted 10 overs.
Shammon Hooper made a stroke filled 52 not out, in which he laced 3 fours and 4 sixes, while Lindon James made 34 not out.
Delorn Johnson pouched 2 for 22, bowling for Salt Pond Breakers.
On Sunday, Grenadines Divers and La Soufriere Hikers were victorious.
Grenadines Divers beat Dark View Explorers by 19 runs.
Grenadines Divers rushed to 135 for 3 from their 10 overs. Asif Hooper scored 52, in which he struck 3 fours and 5 sixes, Obed Mc Coy, 39 and Shem Browne, 38. Shaquille Browne picked off 2 for 12.
Dark View Explorers, despite Deron Greaves' 82 not out in which he hit 16 fours, and Drumo Toney's 21 not out, could only make 116 for 4 from their 10 overs. Kevin Abraham took 2 for 23.
And, Fort Charlotte Strikers reached 55 for 5 from their 10 overs; Dillon Douglas had 3 for 6.
La Soufriere Hikers scored 56 for 3, with Salvan Browne scoring 24.
Today's matches pit Salt Pond Breakers against Grenadines Divers from 11:30 am and from 1:30 pm, Dark View Explorers versus Botanical Gardens Rangers.
Wednesday's matches are Grenadines Divers versus Fort Charlotte Strikers, then La Soufriere Hikers meet Dark View Explorers, whilst Thursday's fixtures feature Fort Charlotte Strikers against Botanical Gardens Rangers and Salt Pond Breakers versus La Soufriere Hikers.
On Friday, La Soufriere Hikers and Dark View Explorers meet in the opening fixture, to be followed by Grenadines Divers against Botanical Gardens Rangers.
The format sees the teams meeting one another twice. Then the top four teams will enter the play-off with the first place meeting the second, and the winner advancing to the final.
The loser will meet the winner of the eliminator match between the third and fourth places, for a place in the final.
VPL 2.0 which will run until November 22, but with a reserve day set aside for the next day, in the event of rain.
The winner pockets $10 000.
The first edition of the VPL, was played in May of this year.