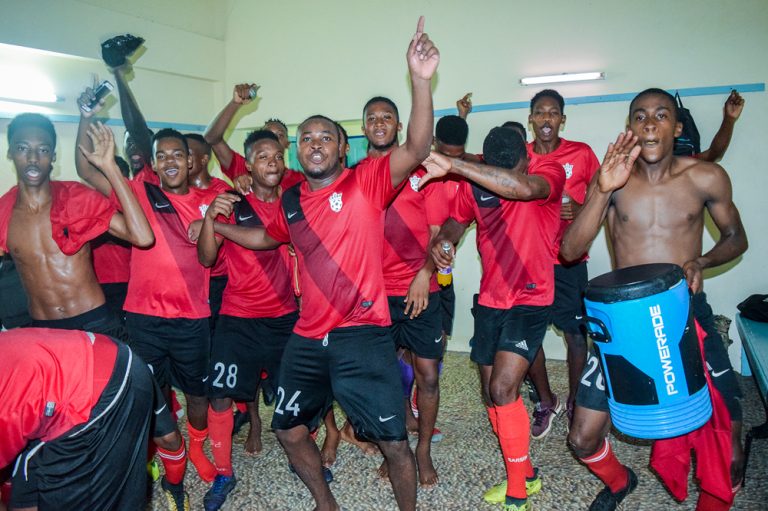 'Big boost for the Layou community' – Wayde Jackson
Head coach of the Layou football team Wayde Jackson, said that copping the first division title of the St Vincent and the Grenadines Football Federation National Club Championships, "is a boost to the Layou community".
Last Sunday night, Layou defeated Pride and Joy 3-2, to champ the title at the Victoria Park.
Layou's goals all came from the boots of their captain Dennis Prescott, in the 7th, 68th and 70th minutes, while Orlando Trimmingham converted two penalties for Pride and Joy in the 35th and 80th minutes.
For Jackson, "it was what the community needed… Since that win, we have been getting a lot of calls even from the Diaspora, as many persons are pledging their support not only for football, but for other sports".
"It is indeed a good feeling that football has been able to rekindle that community spirit in Layou," Jackson added.
Jackson noted such is the momentum that since Sunday, they have already procured a number of balls for the team to continue its training programme.
By virtue of winning the first division, Layou will head to the premier division of the next club championships, and an optimistic Jackson projected: "We are not going to the premier division just to be in the premiership, but to win the title".
Jackson noted that to do so, his team has to be bolstered and foresees a flood of "Layou" players who are on the rosters of other clubs "coming back home".
However, Jackson revealed that his coaching staff will be carefully analysing the positions which are in need of being filled, before recruiting or accepting players.
Layou last presence was in 2013, after a string of defeats and internal issues saw them demoted to the first division.
This led to an exodus of players to the more established football units here in St Vincent and the Grenadines.
During the last seven years Layou had come close to a return to the premiership on two occasions, but were defeated at the semi-final stage.
But recounting Layou's fortunes in the 2019/2020 national club championships, Jackson said that his team's draw with Largo Height in December was his team's "hardest match", and once they got a point from that encounter self-belief kicked in .
"It was our most difficult match… It was December and closing in on Christmas and you know how it is at that time and make it worse, we were short of players and many of the players were unfamiliar with the Sion Hill surface," Jackson related.
He said that from the restart of the championships in January, the team picked up and began reeling off win after win.
Layou ended the division unbeaten from their 11 matches, which saw them winning nine, and drawing two, thus tallying 29 points.
Largo Height, which finished as runner-up, posted 27 points from eight wins and three draws, while Volcanoes, another team that did not concede defeat, won seven matches and drew four, to gather 25 points. Completing the top four was Pride and Joy – 22 points, gained from seven wins, one draw and three losses.
Owia United, Sparta, QCESCO Titans and Glenside Ball Blazers, in that order, were the next four positions.
Relegated to the second division were RSVG Police, K & R Strikers, Toni Stores Jugglers and Hill View.
And, promoted to the first division were Parkside Rollers and Richmond Hill.
The next club championships will have ten clubs in both the premier and first divisions.