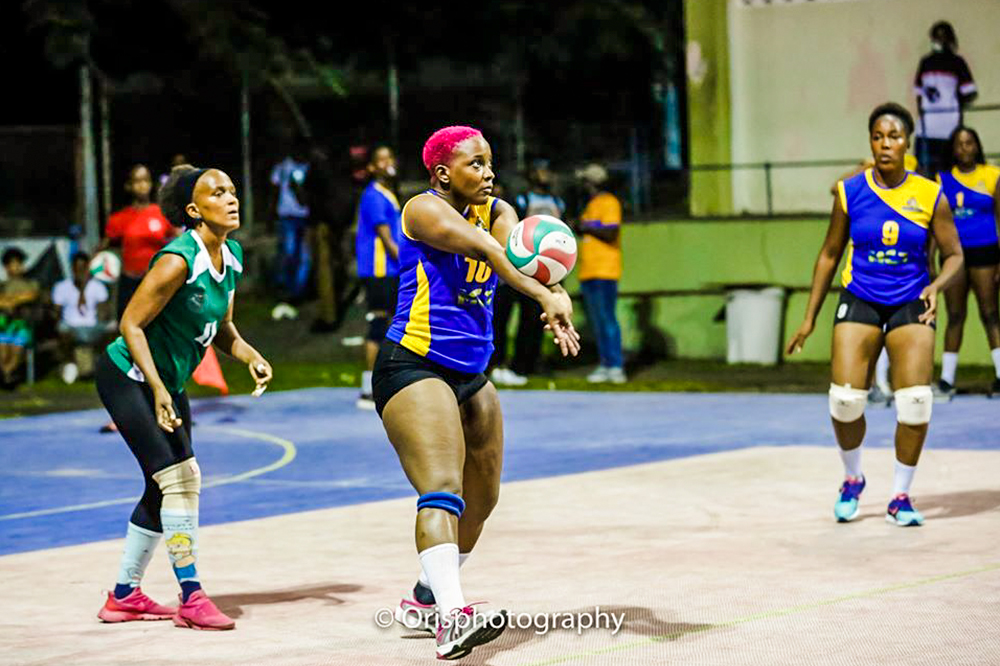 Shannique De Shong thankful for the sporting gifts
Shannique De Shong has credited the Windward Islands Schools Games for some of the multi-sporting talents that she has been developing over the years, but most of all gives Almighty God the praise.
De Shong, who first represented St Vincent and the Grenadines at the annual schools' games back in 2004 as a netballer, was able to transition to volleyball and basketball and was called upon to do field events as well.
This exposure and development of her skills placed her as a certainty on the squad for four years, as she was adept to at least four disciplines.
The Windward Islands Schools Games thus provided De Shong with the impetus to improve on those talents, and led her to represent St Vincent and the Grenadines in netball, court volleyball, beach volleyball, basketball and football.
Added to that unprecedented feat, De Shong is the holder of this country's senior women's javelin record, that of 31.90m, done in 2007.
De Shong revealed that had not been for the intervention of her father, former national midfielder Ashley "Hammers" Baptiste, she would have also been a national rugby player as well.
She recalled attending one rugby practice and was selected to the St Vincent and the Grenadines team, but according to her, "my dad thought that I was taking it too far, by playing so many sports".
At present, and although still in her late 20s, De Shong is a key member of the St Vincent and the Grenadines senior netball team and is expected to be called on for her services if needs be in volleyball and basketball.
But in all those accomplishments De Shong says that she is thankful "to God" for the multi-talents she possesses.
"I am thankful, because some persons cannot represent their country in one sport, but I have been able to do so in at least five," De Shong related.
"It showed that I have the talent and can play various sports well enough to make national teams," she added.
Placing in order of choice, De Shong has netball as her first love, with football second, and with volleyball and basketball following in that order.
However, she believes sports is in her genes, as she grew up in a sporting family, where everyone did some sport, hence it was natural for her to do the same.
Apart from her father, De Shong's elder sister Halimah (now Dr Halimah De Shong), also played netball for St Vincent and the Grenadines.
Hectic scheduling and choices
At the pinnacle of her national representation, when she had at times to move from one practice session to another.
She recalled having netball, football and volleyball training on the same day, and had to juggle with trying to attend all disciplines within the scheduled time of preparation.
" That was not all, because on one occasion, having been selected to play in two tournaments overseas… I had to fly from one of the tournaments (without coming back home), straight to the other tournament", she related.
On the other hand, there was an occasion when she had to make a choice.
Thus, De Shong recalled, when she was selected to represent St Vincent and the Grenadines in two disciplines, and with both tournaments happening at the same time, "I had to make the choice".
De Shong, by her own admission, said that as time wore on, she began to place more emphasis on one sport over the other, reiterating, "netball is my first love".
Satisfaction and gratitude
Whilst still not done with national representation, De Shong is pleased with most of her sojourn thus far, as she has been able to travel a lot, "thanks to sports".
"I am also thankful to sports for what it has done for me… Too, I cannot leave out my family who has been very supportive of me," De Shong reflected.
One who cannot be separated from sports, De Shong is an employee of the St Vincent and the Grenadines Football Federation.
To top it all off for the time being, De Shong is pursuing a Bachelor's of Science degree in Sports Coaching at the University Open Campus.
And, De Shong, last November, represented the UWI Open Campus in the final of a netball competition against the University of Trinidad and Tobago (UTT) held in Trinidad and organised by the Tertiary Sports Association of Trinidad and Tobago ( TSATT).