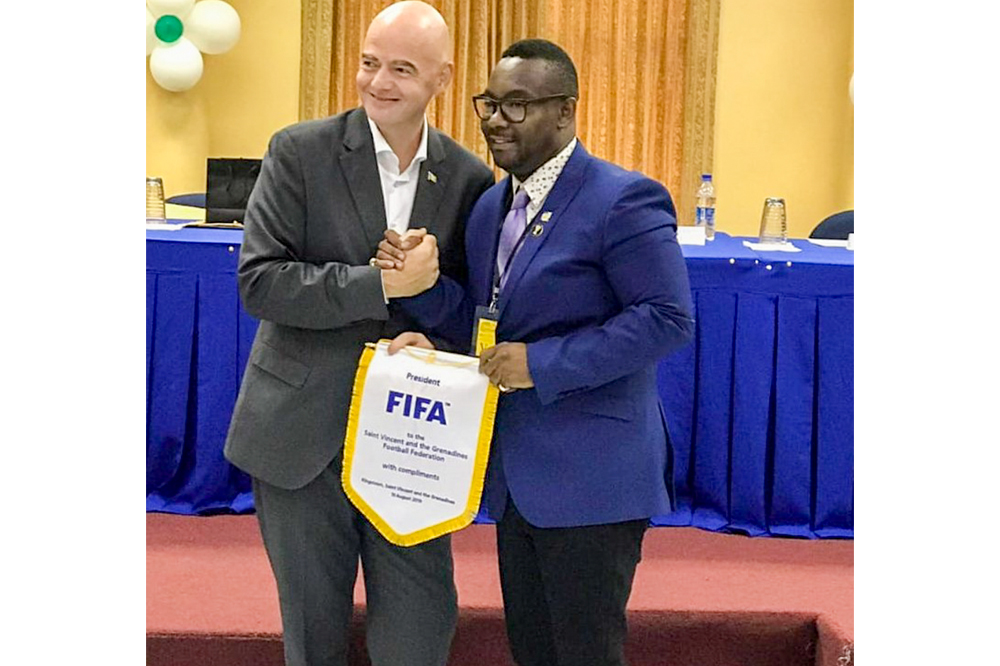 FIFA president writes, lauds SVGFF's head
FIFA's president Gianni Infantino has lauded president of the St Vincent and the Grenadines Football Federation (SVGFF) Marvin Fraser, on the hospitable treatment he and his delegation received on a visit here, on Saturday, August 10.
Infantino, in a personalised correspondence addressed to Fraser and dated August 22, 2019, referred to the visit as "unforgettable memories".
In his letter to Fraser, Infantino wrote: "We would like to thank you and the SVGFF executive committee for welcoming us with open arms and making our short stay so special".
In reviewing the visit, Infantino told Fraser: "During our visit, we have shared important moments…. Our meeting with the SVGFF Executive committee members, which offered us the occasion to review the work of your national association and the challenges, specificities and progress of football in your country, as weII as our visit to the SVGFF Technical Centre at the Brighton Playing Field, were certainly the highlights".
Expecting much to emerge from the visit, Infantino confirmed to Fraser, "We would Iike to assure you that this visit has strengthened our determination to work together for the development and prosperity of football and the community in Saint Vincent and the Grenadines, and that you can always count on FIFA's support in the development of football in your country".
Infantino concluded the correspondence by stating, "Finally, we would Iike to congratulate and thank you for all the efforts you have made and your contribution to the development of our sport and the promotion of its values in Saint Vincent and the Grenadines".
Apart from Infantino, making the stopover was president of CONCACAF and FIFA vice-president Victor Montagliani.
Along with the two presidents, SVG also welcomed six influential staff members of football administration, namely in the CONCACAF set–up.
Among the six were Nidia Mercado – CONCACAF office of the president protocol coordinator, Marco Leal – CONCACAF chief officer member associations and office of the president, along with Marlon Glean, the FIFA regional development manager for the Caribbean member association.
In as well, as part of the delegation, were Véron Mosengo-Omba, FIFA director of member associations and development – Africa and Caribbean countries; Federico Raviglione – FIFA president's office and Mattias Grafström, FIFA deputy secretary general.