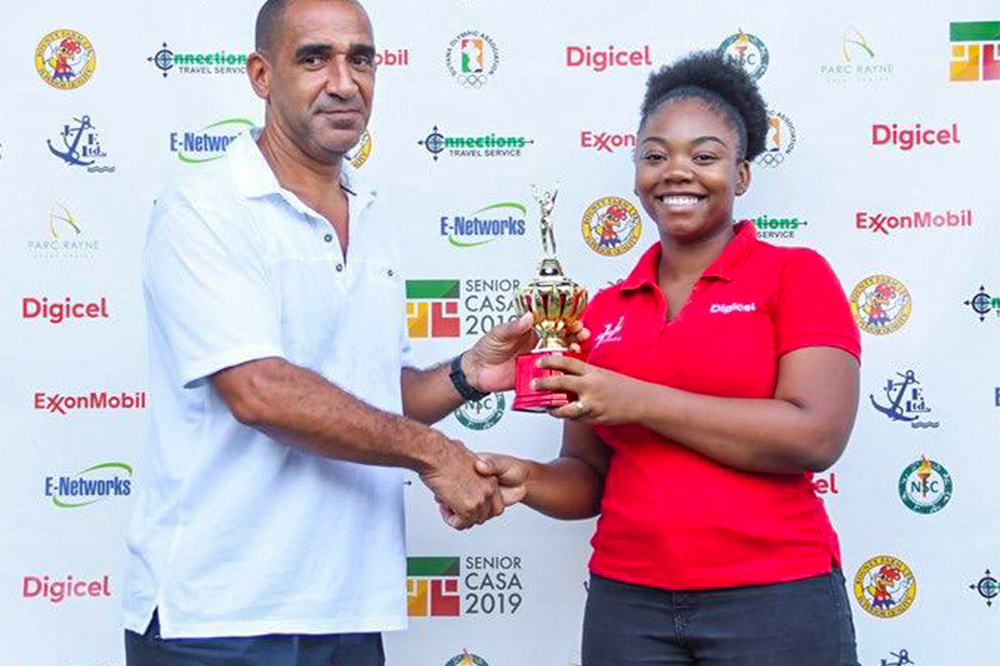 Cyrus not relenting on 50 and over squash title
Getting past Barbados' Mark Sealey in the men's 50 and over at the senior Caribbean Area Squash Association (CASA) in Jamaica in 2020, is the ambition of Vincentian Paul Cyrus.
Sealey, 58, beat Cyrus last week in Guyana, and Cyrus is determined to revenge that in the shortest possible time frame.
Cyrus, who is six years Sealey's junior, had to settle for second in the veterans' category in Guyana. Cyrus lost out to Sealey, 3-11, 6-11, 4-11.
But Cyrus beat Peter Drury of Bermuda 11-5, 11-7, 11-6, and defeated Brendon Mounter of Guyana 11-6, 11-9, 11-7.
Also, Cyrus overcame Neville Sorrentino of the British Virgin Islands 11-8, 11-5, 11-6, and had an 11-6, 11-3, 11-2 win over Stewart Maxwell of Jamaica.
He won by default from Jody Jervis of the Cayman Islands, to record five wins and one loss.
His nemesis Sealey, who also competed in the round of 32 on the men's main draw, was perfect in the 50 and over.
Cyrus though, told SEARCHLIGHT that he was not satisfied with being in the shadows of Sealey, or any squash player for that matter.
"I don't like to lose and one of my goals is to beat Sealey before he enters the 60 and over at CASA," Cyrus posited.
"He is spurring me on and beating him is what I want to do," Cyrus reiterated.
Cyrus, along with Keith Boyea and Collin Alexander, composed the St Vincent and the Grenadines veterans' team at last week's championships in Guyana.
At his team's latest outing, Cyrus referred to the championships as "a bit difficult", because St Vincent and the Grenadines did not field a full veterans' team.
As a consequence, the Vincentians were hamstrung as they had no women, hence lost in that category to their opponents.
This year saw a separation of the OECS team, with St Vincent and the Grenadines and the British Virgin Islands competing as single entities.
Cyrus however praised the hosts in Guyana for a "well organised" championships.
But for him personally, Cyrus plans to wheel and come again, as he takes aim at the 50 and over title next year,
Winning titles at CASA is not new to Cyrus, as he won back to back Under- 16 titles in 1982 and 1983.
Most recently, Cyrus won the 40 and over category when the senior CASA was held here in St Vincent and the Grenadines in 2010.