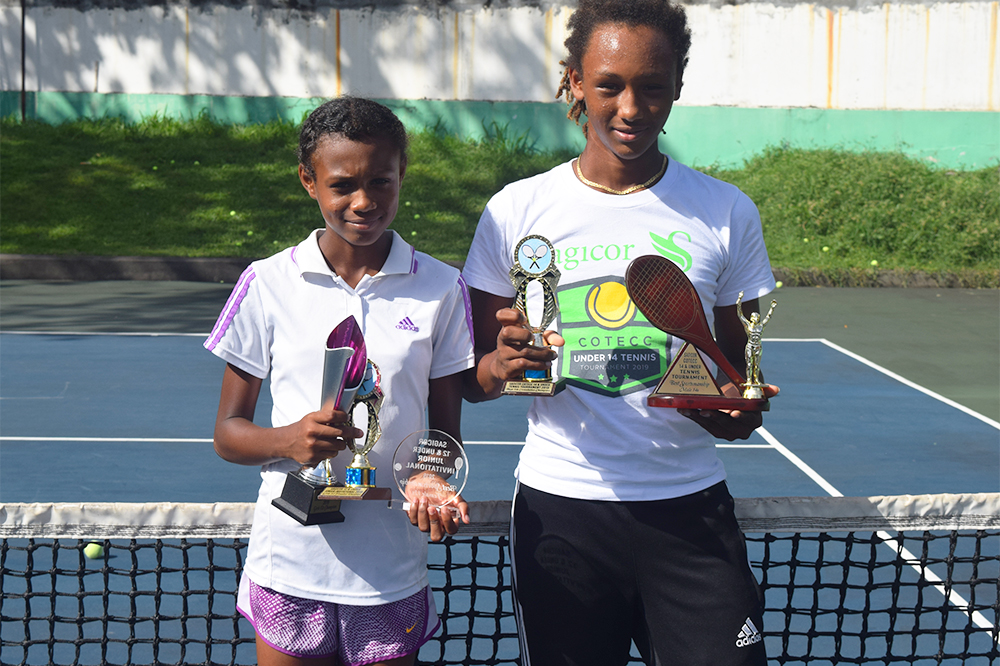 Lucases make good on regional junior tennis debut
Afe Lucas won the girls'Under-12 and her brother, Afi Lucas, the consolation boys' Under- 14 title, when the Sagicor Confederation of Tennis of Central America and the Caribbean (COTECC) development Junior Tennis Tournament ended at the National Tennis Centre in St Lucia, August 15.
Both members of the X-Cel Tennis Academy, they were competing for the first time outside of St Vincent and the Grenadines.
In claiming her title, Afe beat Trinidad and Tobago's Imara Chin Lee 5-7, 6-1, 6-4, in the decisive match.
Afe and Yasmine Sandy, also of St Vincent and the Grenadines, though, were the beaten finalists in the doubles. They lost to the Trinidadian duo of Eva Pasea and Imara Chin Lee, 6-0, 7-5.
Meanwhile, Afi secured his consolation boys' Under- 14 trophy, by defeating Trinidad and Tobago's Daniel Jeary 6-0, 6-4.
Apart from their titles, the Lucases had more going for them, as Afe won the Best Sportsmanship trophy for the girls' Under- 12 and Afi, likewise in his age group.
On return from their outing in St Lucia, Afe and Afi, gave comments on their experience.
"It was a good tournament for me and I feel good that I won," Afe said.
Expressing similar sentiments was Afi, whose consolation title, was accepted.
"It was a really tough tournament for me, but I enjoyed my first tournament outside of St Vincent (and the Grenadines)," Afe related.
Both though accepted the fact that they have to train harder for future tournaments.
Also delighted with the Lucases' performance was their coach Kebajah King, who travelled with them to St Lucia.
"They had worked hard and I am glad that they were able to get to see what tennis is like outside of St Vincent and the Grenadines," King stated.
King though is hopeful that both siblings will get more exposure in the near future.