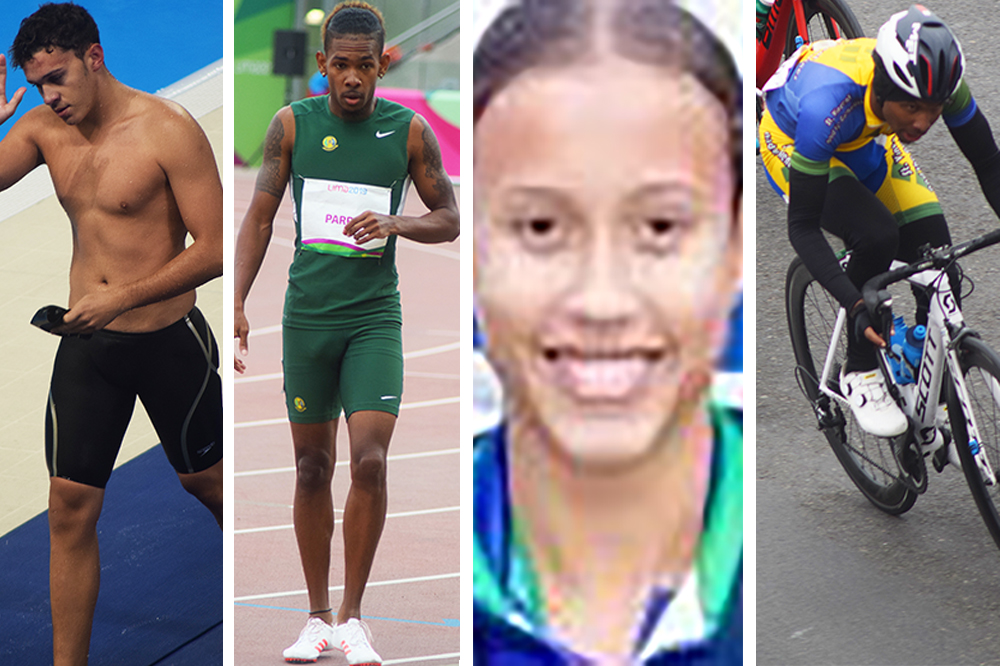 SVG's Pan Am Games' representatives reflect on experience
The four Vincentians who participated in the XVIII Pan American Games which ended last Sunday in Lima, Peru, expressed that it was a learning experience despite not leaving a mark on the games.
Representing St Vincent and the Grenadines were Mya De Freitas and Cruz Halbich – swimmers, track athlete – Brandon Parris and cyclist – Zefal Bailey.
In her review, De Freitas stated: "It was an enjoyable experience, except for the cold weather, but I still manage to do some good times".
" I was able to do my personal best in the 100m free (style) … I wasn't far off on the 50m freestyle, but my 200m freestyle was not that close," De Freitas related.
The 13-year-old De Freitas, acknowledged that she has to "train harder", in order to accomplish better performances.
Meanwhile, Halbich revealed, "Overall it was not the best of meets for me, but I managed to get a pb (personal best) in the 50m freestyle Halbich, who is more adept to the longer races, noted that coming down to the shorter distances has posed a problem for him, but he is prepared to make the adjustments.
"From this, I realise that I have to work harder to get better times," Halbich promised.
Like Halbich, Parris was "disappointed" with his returns.
"Going into the games, preparations went well and I had high hopes of having a season best or a personal best, but that did not happen," Parris commented.
Parris, on reassessment pinned "lack of races", as the cause for his below par performance.
But the most distraught was Bailey, who sobbed after he was forced to discontinue his 110 miles road race.
"It was a terrible experience for me, as I had trained really, really hard for this, and it came crashing down on me and my emotions," Bailey lamented.
Bailey was confident he would have completed the race, as he was in good shape and good spirit.
He, however plans to be more detailed in future races.
When the St Vincent and the Grenadines representative began competing last week Wednesday, Halbich, competing in the men's 200m freestyle clocked 2 minutes 10.04 seconds, while De Freitas in the women's 200m freestyle, timed 2 minutes 19.99 seconds.
On the track, Parris' time in the participation in the men's 400m, stopped at the semi-finals, as his 48.14 seconds, did not help him advance. 
Then on Thursday, De Freitas timed one minute 3.40 seconds to be second in her women's 100 metre freestyle heat, while Halbich clocked 57.51 seconds in the men's 100 metre freestyle.
Also on that day, Parris, was unable to end in the top two of the 200m men's semi-final one, hence ended his sojourn at the games. Parris' time was 21.47 seconds.
On Friday, De Freitas and Halbich contested the 50m freestyle.
De Freitas' time in her heat was 29.57 seconds, while Halbich clocked 25.72 seconds, which earned him his personal best in the event.
And, last Saturday, cyclist Bailey, aborted his effort in the road race, following a mechanical problem on the fourth lap of the race.