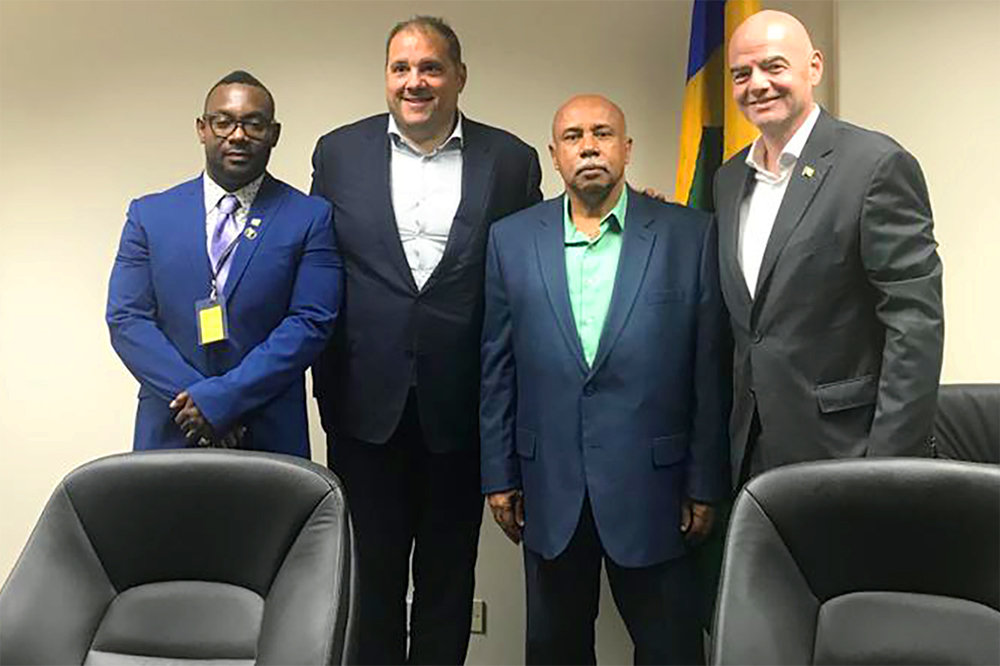 "Football's top brass visit fruitful and historic"- Marvin Fraser
Sitting president of the St Vincent and the Grenadines Football Federation (SVGFF) Marvin Fraser, has described the visit of Gianni Infantino, president of football's world governing body FIFA, along with CONCACAF president Victor Montagliani, along and six other FIFA dignitaries, last Saturday as "historic and fruitful".
Fraser noted that it was the first time in the history of St Vincent and the Grenadines' football, that such a high power team of influential football officials have descended on the country in one visit.
The six officials, who accompanied Infantino and Montagliani, were Mattias Grafström, FIFA deputy secretary general (Football); Marco Leal – CONCACAF chief officer member associations and office of the president Véron Mosengo-Omba, FIFA director of member associations and development – Africa and Caribbean countries .
Also Marlon Glean, the FIFA regional development manager for the Caribbean member associations; Federico Raviglione – FIFA president's office and Nidia Mercado – CONCACAF office of the president protocol coordinator.
Benefits to SVG
Fraser noted that coming out of the discussions held, St Vincent and the Grenadines stands to benefit immensely.
"The country stands to benefit from the lighting of playing fields, the building of additional football pitches, both natural and artificial, the refurbishment and upgrade of current facilities, as well as the possible purchase of an apartment facility," Fraser related.
Fraser disclosed that in the case of the lighting of the playing fields, discussions are at "an advanced stage".
"What is only needed, is a Memorandum of Understanding signed by the government of St Vincent and the Grenadines and the St Vincent and the Grenadines Football Federation," Fraser underscored.
On the matter of the Technical Centre at the Brighton Playing Field, Infantino revealed his disappointment with its stagnation, but acknowledged the issues and challenges.
He though assured that work will be done soonest because of the change of the leadership at the SVGFF.
Hence, Fraser confirmed, "The SVGFF was however urged to move expeditiously on infrastructure development".
While here, Infantino and Montagliani held discussions with Minister of Tourism, Sports and Culture Cecil Mc Kie.
At that sit down, both presidents gave Mc Kie the assurance that FIFA and CONCACAF will continue to fund projects through the St Vincent and the Grenadines and the Grenadines Football Federation.
Well pleased.
Both FIFA and CONCACAF heads pledged their sincere support to Fraser and his executive and commended them for the quality and quantity of football that they are seeing from St Vincent and the Grenadines, even with the lack of proper facilities.
Welcoming the praise, Fraser said: "The public commendation by both presidents of the work that has been done and the changes made by the organisation, speaks volume of work done by us".
Fraser projected that he and his executive will continue in the vein of developing football across St Vincent and the Grenadines.