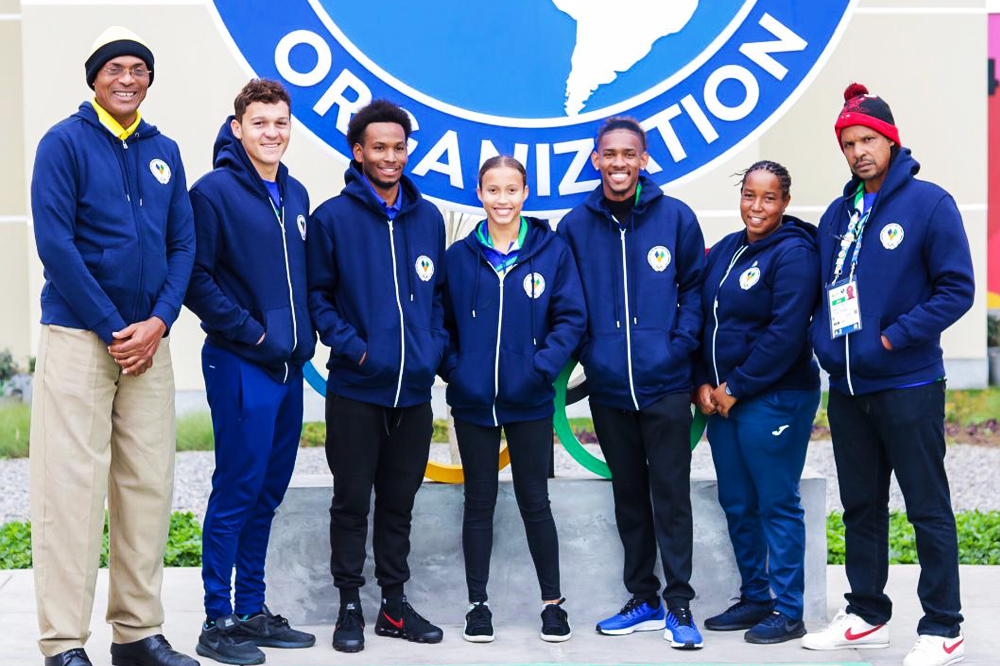 SVG takes Pan American Games plunge tomorrow
St Vincent and the Grenadines will get its first dip of the XVIII Pan American Games, tomorrow, in Lima, Peru, when swimmers Mya De Freitas and Cruz Halbich, along with track athlete Brandon Parris will be in action, tomorrow, Wednesday.
De Freitas competes in the women's 200m freestyle, while Halbich will contest the same event in the men's category. The events are carded to commence at 11 a.m. at the Aquatic Centre in Videna.
The finals of these events are also carded for tomorrow from 8 30 p.m.
Meanwhile, Parris takes to the track in the men's 400m semi-finals, which would be run between 3 40 p.m. and 3 50 p.m. at the Athletics Stadium in San Luis.
If Parris makes it to the final, he will compete at 5 20 p.m., also tomorrow.
On Thursday, De Freitas and Halbich are listed in the 100m freestyle events, which are set as the same times as the 200m.
They repeat in the 50m freestyle on Friday, also set for the same times as their previous events.
On Thursday, Parris runs in the 200m semi-finals, which are set to be contested between 4 10 p.m. and 4 20 p.m.
And, on Saturday, Zefal Bailey will contest the cycling road from 1 p.m. The road race takes place in Costa Verde San Miguel.
All times quoted, are in Peruvian time, which is one hour behind Eastern Caribbean Time.
Looking ahead of their outing, all expressed desires to do their best.
Mya De Freitas: "I am here to improve on my times and at least do my personal bests on all three events".
Cruz Halbich: "I will do my best to perform at this, a higher level".
Halbich did not make heavy weather of the cold conditions which currently exist in Peru.
According to Halbich, "Competing, we will be indoors, so our environment is basically controlled…. It does not affect us as much ".
Brandon Parris : "I want to use this meet to put me in a better position for World Championships coming up in September … I am going out there and have my season's bests at this meet and hopefully get on the podium and stay injury free".
Based in the US, Parris noted that the weather conditions are not dissimilar to what he has become used to.
Zefal Bailey: "I want to do my best and who knows, medal… This weather is cold and being accustomed to train in hot sun, but I am adapting to it and on race day be ready".
Bailey was the first member of the team to arrive in Peru. He did so on July 21, five days before the start of the games.
The St Vincent and the Grenadines team, which also includes Chief-De-Mission Wayne Williams, along with cycling's coach/ mechanic – Emmerson Holder and swimming coach- Neisha Alexander, finally assembled last Sunday, with the arrival of Parris.
Referring his role, Williams posited: "I am here to give our athletes the best changes of doing their best at their respective disciplines and make them as comfortable as possible so that they can maximise their performance".
St Vincent and the Grenadines, at the last Pan American Games held in Toronto, Canada, gained a bronze medal, when Kineke Alexander placed third in the women's 400m.
St Vincent and the Grenadines first contested the Pan American Games in 1991, in Havana Cuba, 40 years after the inaugural edition took place in Buenos Aires, Argentina.