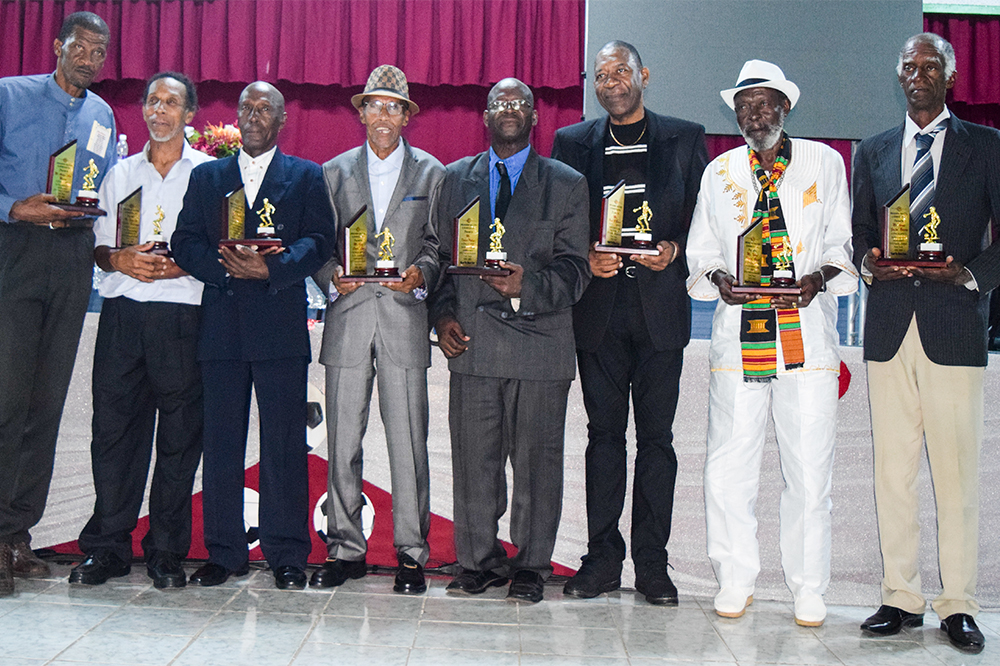 Honours bestowed on 1979 national football team
Members of the St Vincent and the Grenadines football team, which placed second in the Caribbean Football Union's competition in 1979, were honoured last Friday night at a Gala ceremony hosted at the Russell's Auditorium.
This, as the Breakaway Masters Organisation and the St Vincent and the Grenadines Football Federation, jointly paid homage to the team that announced the country's football pedigree to the wider Caribbean.
Entering the Caribbean Football Union for the first time, St Vincent and the Grenadines got past Martinique and Guadeloupe in the home and away games, to earn a place in the final versus Suriname, Haiti and Trinidad and Tobago.
St Vincent and the Grenadines beat host Suriname and Trinidad and Tobago, but lost to Haiti, thus placed second in the tournament.
Those who travelled to Suriname for the final were Elliot "Morie" Millington, Oswald "Sheen" Millington, Guy "Chow" Lowe, Raultie Lowe, Peter "Pete" Morris, Stanley "Luxie" Morris, Raymond "Bally" Ballantyne, Vibert "Chilo" Ballantyne, Tyrone "Tweety" Spence, Tyrone Barrow, Sydney Mandeville, Tyrone "Fleety" Grant and Ashley "Hammers" Baptiste.
Also on the team were Keith "Slick" Bonadie, John "Combay" Cato, Alwyn "Allie Bice" Munroe, Dorian "Do-Do" Phillips, Vin Phillips, Marcus Young, Paul O'Garro, Julian Small, and Raymond Blinkance" Soso.
The management team included Sylvester "Scobie" Taylor – Manager, Basil "Bung" Cato, Rudy Boucher – Coach and Rudolph "Ounce Ah Beef" Mayers – Trainer. Gideon Exeter, an executive member with the then SVG Football Association, also was part of the contingent to Suriname.
Spence, Mandeville, Bonadie and Taylor, will be honoured posthumously.
Many of the honourees were not present in person, as most are residing overseas.
However, they had their plaques presented on their behalf.
Friday night's ceremony heard remarks from president of the Breakaway Masters Organisation – Leopold Dopwell, president of the SVGFF – Marvin Fraser and Leader of the Opposition Godwin Friday.
Curtis King was the featured speaker.