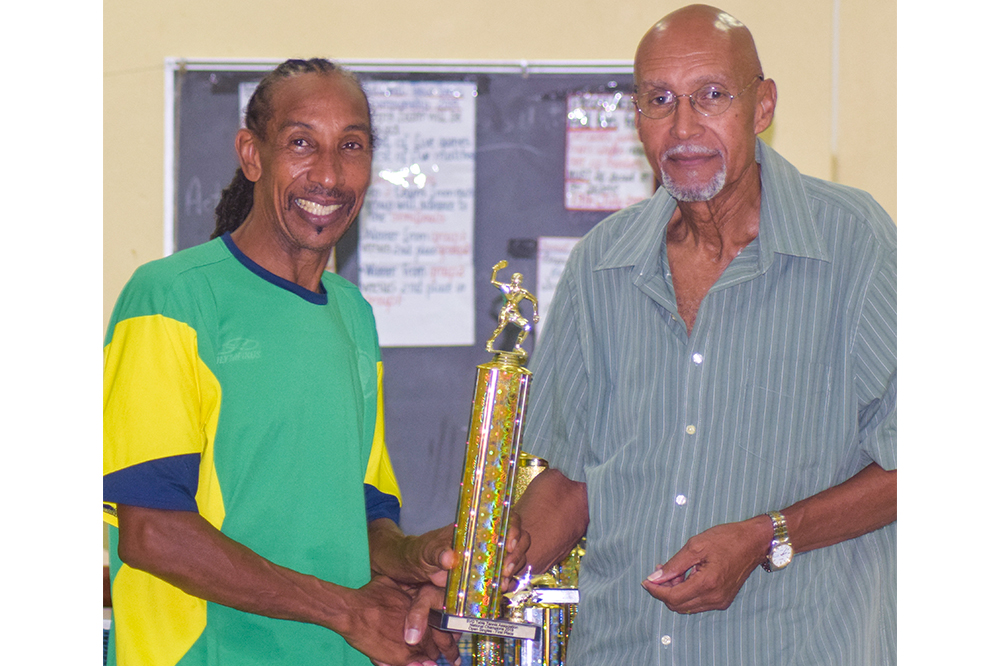 59 year old is national TT singles champion
Robert "Bob" Ballantyne withstood a barrage of heckles in reference to his age, at the finals of the men's singles of the National Table Tennis Championships, but prevailed to be crowned number one.
Called a "dinosaur" and a "relic", Ballantyne kept his poise to beat Damion Dublin four games to three in an epic showdown at the Recreation Hall of the Church of Christ of Latter Day Saints, last Saturday night.
Dublin won the first two games at 11-9 and 11-3, as Ballantyne failed to counteract his opponent's play.
Ballantyne took game three at 11-3, but Dublin took game four at 11-4, to leave the match 3-1 in Dublin's favour.
But Ballantyne left the best for the last three games, winning in emphatic style, 11-4, 11-2, 11-5.
Ballantyne's coach on the night Terrance Marksman reminded those who referred to him as a "dinosaur", that a dinosaur's "software can be upgraded".
Before squaring off against Dublin in the final, Ballantyne got past long-standing friend David Llewellyn, 12-10, 12-10, 11-7, 11-4 in the semi-finals.
In the other half of the semi-finals, Dublin overcame a spirited Caleb Howard 9-11, 11-7, 11-7, 11-6, 3-11, 11-6. 
Ballantyne told SEARCHLIGHT that he is again contemplating opting out of competing in the men's open singles of the national championships, except if there is a masters' segment.