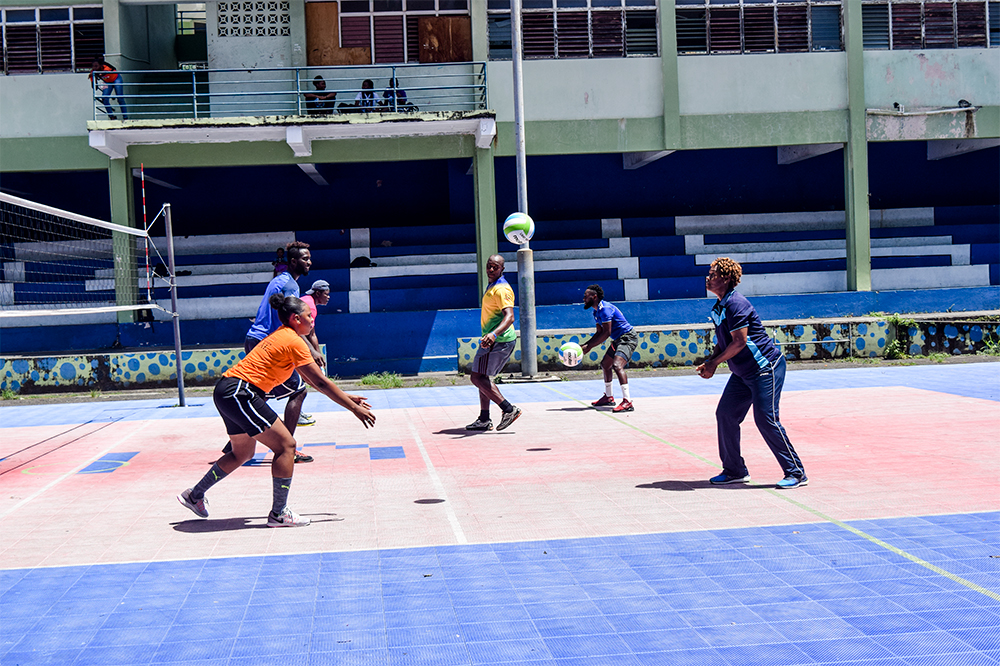 Volleyball setting for wider local geographical spread
The Executive of the St Vincent and the Grenadines Volleyball Association (SVGVA), as a matter of urgency, has to get more persons involved in the sport of volleyball in the country.
This is one of the finds of Vincentian-born Canadian-based Marlon Williams, who is on a three-month Internship, as partial fulfillment of his Sport Management Advanced Diploma Programme from Humber College, in Toronto, Canada.
Williams, who has been engaged in several Grassroots programmes, with the objective of introducing the sports to youngsters, assessed, "In order for the sport to develop, more people have to get involved… That is the only way the sport can grow".
In doing so, Williams is promoting taking the sport islandwide.
"Hopefully, the sport can spread to the areas where volleyball is not popular, for example, North Leeward, whilst consolidating the already established areas," Williams proffered.
"Since being here from May, I have conducted several Learn to Play activities in several areas… The plan is that the coaches will continue and ensure that volleyball flourishes in these areas," Williams said.
Another of Williams' undertakings was a three-day course for beginner coaches from the Division of Physical Education and Sports, staged at the Girls' High School court.
"We also have to get volleyball into the primary schools, so the introductory course with personnel from the Division of Physical Education and Sports, we should see some progress with students at that level," Williams projected.
At the other end of the spectrum, Williams said that it is imperative for the SVGVA to host a national championships, which he revealed will serve off in October.
"Persons have to see the sport being played competitively, and this will encourage the growth and interest in volleyball," Williams related.
Williams, a former player with the St Vincent and the Grenadines team, said he is impressed with the progress, especially with the senior men's team, which has qualified for two successive NORCECA Continental Championships.
"I am really impressed with the team, who came through the junior and youth levels, and they are doing well in the ECVA (Eastern Caribbean Volleyball Association) region," Williams praised.
Williams, whose Internship comes to and end next month, apart from working on a Grassroots structure and preparing the various national teams, has had the responsibility of assisting with SVGVA's Budgeting and Accounting, as well as developing a marketing strategy for volleyball in St. Vincent and the Grenadines.