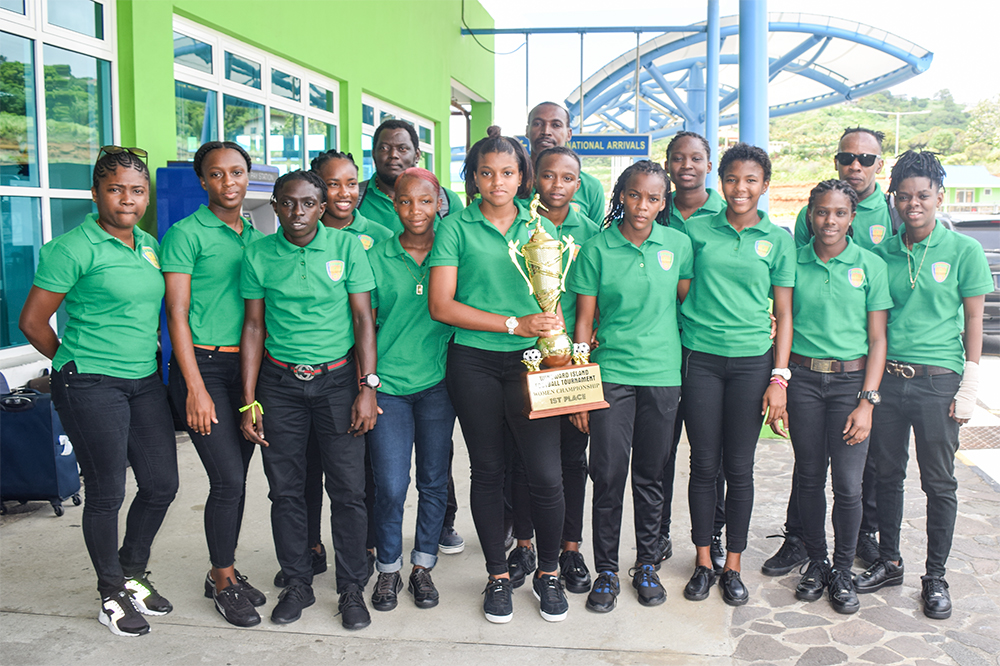 SVG's Lady Heat takes WIFA senior title
St Vincent and the Grenadines' senior women's football team "Lady Heat", clipped host St Lucia on a superior goal difference to be crowned the 2019 Windward Islands Football Association (WIFA) tournament's champions.
Both teams ended with six points, gained from two wins and one loss each, when the tournament concluded last Saturday night at the Darren Sammy Cricket Stadium.
However, St Vincent and the Grenadines had a goal differential of four, while St Lucia's was zero.
The title was decided on Saturday night, when St Vincent and the Grenadines registered a commanding 4-0 triumph over Dominica.
Two goals each from Chrislyn Browne and Areka Hooper, handed the Vincentians their second three points, thus putting their tally of points to six.
More so, the margin of victory placed St Vincent and the Grenadines in a healthy position, depending on the outcome of the final match.
With St Lucia in pole position on six points, and needed only a draw to take the title, the host failed to complete the journey.
Instead Grenada downed St Lucia 2-0, which made it good for St Vincent and the Grenadines.
The newly installed champions began their journey with a 1-0 win over defending champions Grenada.
It took a Kristianne Wyllie strike that gave the Vincentians their win.
However, St Vincent and the Grenadines lost to St Lucia 1-0 on Thursday, as the host went perfect from their two matches.
In other results, St Lucia got past Dominica, 3-2, while Grenada and Dominica drew 1-1.
Apart from winning the title, St Vincent and the Grenadines won three individual awards.
Altica Benn was named the tournament's best goalkeeper, as well as the tournament's MVP.
And, Zeyanna Charles was adjudged the best defender.
Coach of the St Vincent and the Grenadines team Cornelius Huggins, in his first stint in the position, praised his charges for the victory.
"This (victory) is not for me, it is for the players, who worked hard, Huggins said on Sunday, as the victorious team returned home.
He assessed that female football is on the rise, granted the increased number of persons getting involved in the sport.
Apart from Huggins, SVG's management team included Alnif Williams – assistant coach, Shandell Samuel – striker coach, Urtis Blackette – goalkeeper coach, Shevon Smith – physiotherapist and Shevorn Trimmingham – manager.
The list of players who made the trip to St Lucia included. Samonique LaBorde and Altica Benn (goalkeepers). Shian Perry, Zeyanna Charles, Rae Dawn Nanton, Ashanti Douglas and Angel Maxwell (defenders), with Lakeisha Ottley, Teffie-ann Browne, Chrislyn Browne, Annesta Richards, Esreen Quow, Kitann Richards, Kristianne Wyllie, Dionte Delpeche and Jessicia Miller (midfilders).
And, making up the strikers' unit were Areka Hooper, Denel Creese and Sherese Cyrus.