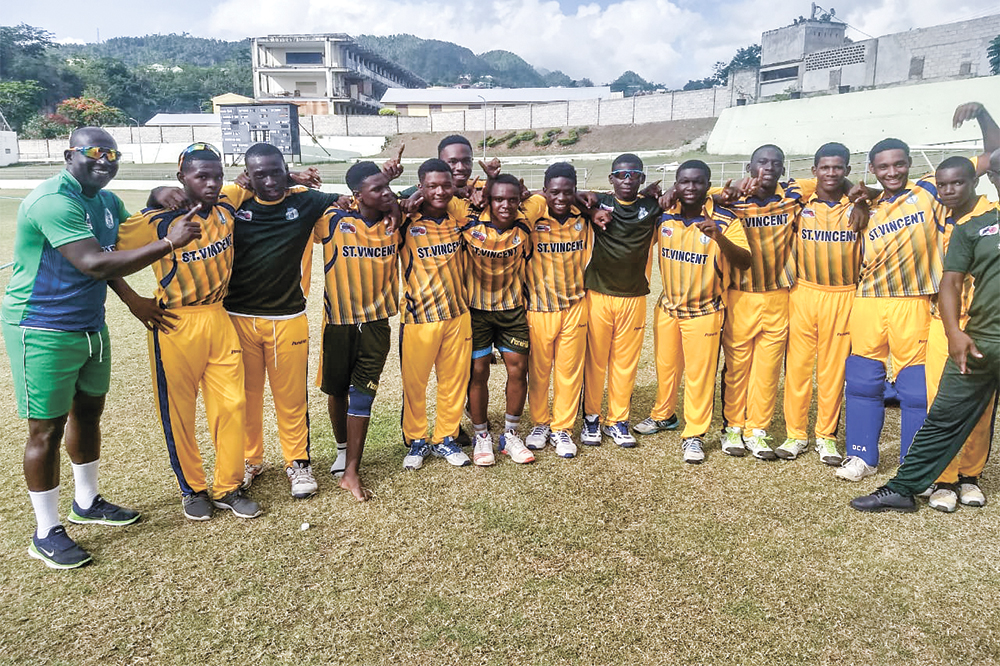 SVG rebounds to take Windwards U-19 cricket title
St Vincent and the Grenadines, after losing their first two matches against Grenada and St Lucia, rebounded to take the 2019 WINLOTT Inc. Windward Islands Cricket Board of Control (WICBC) Under-19 cricket tournament, which ended in Dominica on Wednesday.
The Vincentians had sweet revenge versus Grenada in the final, played at Windsor Park,Batting first, Grenada scored 189 all out from 37 overs.
Seandell Regis struck 39, Sunil Narayan, 34 and Josh Edmond, 33.
Bowling for St Vincent and the Grenadines, Tijourn Pope snared 4 for 39 and Donwayne Baptiste, 2 for 26.
Led by 105 not out by Carmalo Cain and O' Jay Matthews' 33, St Vincent and the Grenadines responded with 193 for 6.
Kimo Peters, with 2 for 14 and Sylvon Charles, 2 for 35, were the most successful bowlers for Grenada, as St Vincent and the Grenadines won by four wickets.
The Vincentians resurgence in the tournament started on Tuesday, when they recorded a 107-run win over the host, also at Windsor Park.
Asked to bat, the Vincentians posted 252 all out in 49.1 overs.
Romando Browne scored 55, Carmalo Cain, 50, and Jaheil Walters, 40. and there were 32 extras.
Bowling for Dominica, Malakai Xavier took 3 for 29, Savio Anslem, 3 for 32, Shaheim Caesar, 2 for 24, and Jedd Joseph, 2 for 50.
Dominica replied with 137 for 8 in 20 overs, with Taj Tavernier scoring 56.
Kyle Bobb took 2 for 18 and Kemron Strough, 2 for 29.
The win placed St Vincent and the Grenadines on 5.9 points, edging St Lucia on 5.6 points.
Also on Tuesday, at Benjamin's Park, Grenada defeated Saint Lucia by 81 runs, to finish the preliminary round on 15.5 points.
Grenada scored 215 for 8 in 50 overs. Seandell Regis scored 66, Teddy Bishop, 39, and Divonie Joseph, 30. Simeon Gerson picked up 3 for 49.
In reply Saint Lucia was all out for 134 in 42.4 overs.
Garvin Serieux hit 52, Kimani Melius, 31.
Bowling for Grenada, Sylvon Charles took 3 for 19, Jamie Buddy, 3 for 21, and Rishaad Daniel, 3 for 24.
Dominica beat St Lucia on Wednesday at Benjamin Park, to take the third place.
Dominica's Tahj Tavernier copped the awards for most runs (189) and the best wicketkeeper.
Savio Anselm, also of Dominica, took the most wickets (14), while Carmelo Cain of St Vincent and the Grenadines was rewarded for his 105 in the final, which was the highest individual score.