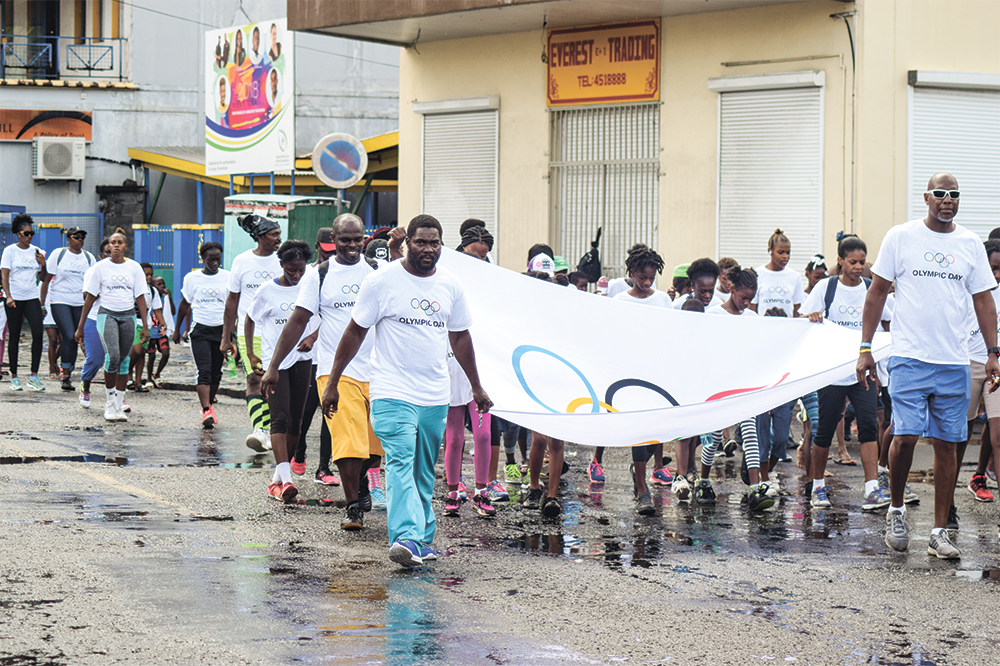 Olympic Week celebrations culminate tomorrow
The St Vincent and the Grenadines Olympic Committee's observation of the 2019 Olympic Week of activities, will culminate tomorrow, with the Olympic Day Run around Kingstown, starting at 2 p.m.
Tomorrow's activities will begin at 9 a.m. at the Grammar School Playing Field, with multiple activities, utilising the facilities of the St Vincent Grammar School, the Girls' High School, the National Lotteries Authority Tennis court, the CW Presod Primary School and the Kingstown Preparatory School.
The many participants will be engaged in traditional sports, such as Bunnings, Rounders, Moral, Skipping, Marbles, Top Spinning among others.
Additionally, participants will have the opportunity to learn a sport, as on the spot coaching in the various sporting disciplines, under the Olympic banner, will be available.
Olympic Week commenced last Sunday with a church service at the Kingstown Baptist Church, which was attended by affiliates of the SVG Olympic Committee.
On Monday, there was a meeting of the National Olympic Academy, the educational arm of the SVG Olympic Committee, and on Tuesday, the executive of the SVG Olympic Committee met in a closed session.
Meanwhile, president of the SVG Olympic Committee Trevor Bailey, in his message to acknowledge the week of activities declared: "June 23, 2019 marks 125 years of the birth of the modern Olympic movement… We join our sporting brothers and sisters from the other 205 countries affiliated to the International Olympic Committee in the celebration of such a significant milestone".
"This movement was created to unify countries with the aim for world peace and to showcase the talents of many athletes… Over the years we have seen tremendous impact sports have on individuals, people and nations," Bailey stated.
Eighteen sporting disciplines are on the programme of the SVG Olympic Committee.