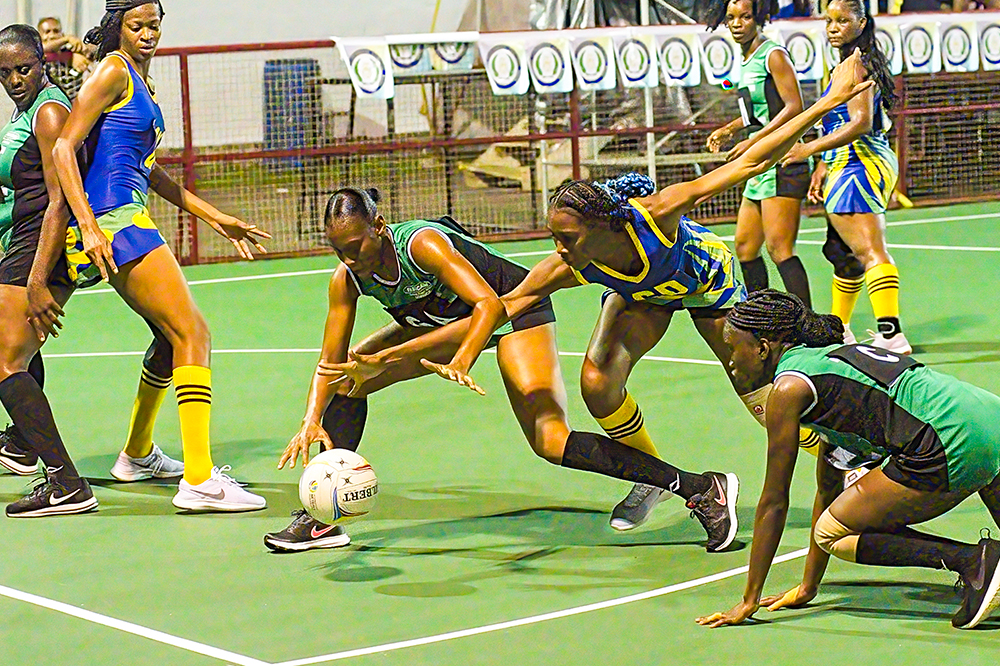 SVG, Grenada stride out in inaugural International Netball Series
 St Vincent and the Grenadines won both of their matches in the ECCB/ OECS  International Netball Series taking place here at the Arnos Vale Netball Complex.
The Vincentians opened their account with a commanding 59-24 win over Dominica on Saturday evening.
After the first quarter ended 8-8, St Vincent and the Grenadines pulled away to take the second quarter at 23-13 and the third at 47-31.
Then on Sunday night, the Vincentians had a hard fought win over St Lucia, 42-39.
The host trailed 11-12 at the end of the first quarter, but nosed ahead 23-19 at the half way mark, St Lucia responded by taking the third quarter 30-29, before the Vincentians took charge in the last quarter, to win by three goals.
For SVG, Mary Ann Frederick had 32/40 and Shellisa Davis, 10/12.  For St Lucia, who was suffering their second successive defeat, Dasha Eugene scored 14/18 attempts and Shem Maxwell, 25 of her 37.
Like St Vincent and the Grenadines, Grenada are also unbeaten. Grenada outplayed St Lucia, 64-39, in a match which was forced to be completed Sunday morning, after Saturday night's heavy rains.
Grenada won all quarters at 12-7, 29-20, 47-31 and finally 64-39.
 
The Grenadians returned on Sunday evening, to beat Antigua and Barbuda by 29 goals.
Grenada led in all quarters: 20-7, 32-13, 49-24 and finally, 59-30.
Lottysha Cato made good 40 of her 49 attempts, while Cecile Roberts had 12/20, Tiffany Frederick, 2 from 5 and Renisha Stafford, 5 from 9.  
For the Antiguans, Rayana Regis netted 25 from 36 and Seymone Parkes had 5 of her 12 attempst counted.
The Grenadians put on another dominant show on Monday morning, to dismiss Dominica 63-35, with previous quarter scores of 20-7, 38-15 and 49-25.
Cato registered 40 from 43, Roberts had 15 of 24 and Stafford, 8 from 22, while for Dominica, Xavier scored 28 from 30 and Lisa James, 7 from 9.
St Vincent and the Grenadines and Grenada were set to meet in one of Monday night's double headers, with the other fixture featuring Dominica against Antigua and Barbuda.
 
Tuesday's matches feature Antigua and Barbuda versus St Lucia from 7 a.m., with St Lucia meeting Dominica from 6 p.m. and St Vincent and the Grenadines against Antigua and Barbuda from 7 30 p.m.
The teams will begin the second round from Wednesday.
Dominica face Grenada from 6 30 a.m. St Lucia and Grenada go head to head from 6 p.m., to be followed by SVG versus Dominica from 7 30 p.m.
Thursday's matches are SVG against Antigua and Barbuda from 6 30 a.m. Antigua and Barbuda return to meet St Lucia from 6 p.m., and SVG have their second meeting with Grenada from 7 30 p.m.
When the tournament culminates on Friday, Dominica play St Lucia from 6 a.m., with Grenada and Antigua and Barbuda meeting each other from 7 30 a.m.
Dominica and Antigua and Barbuda meet from 5 30 p.m., with SVG and St Lucia squaring off from 6 30 p.m.