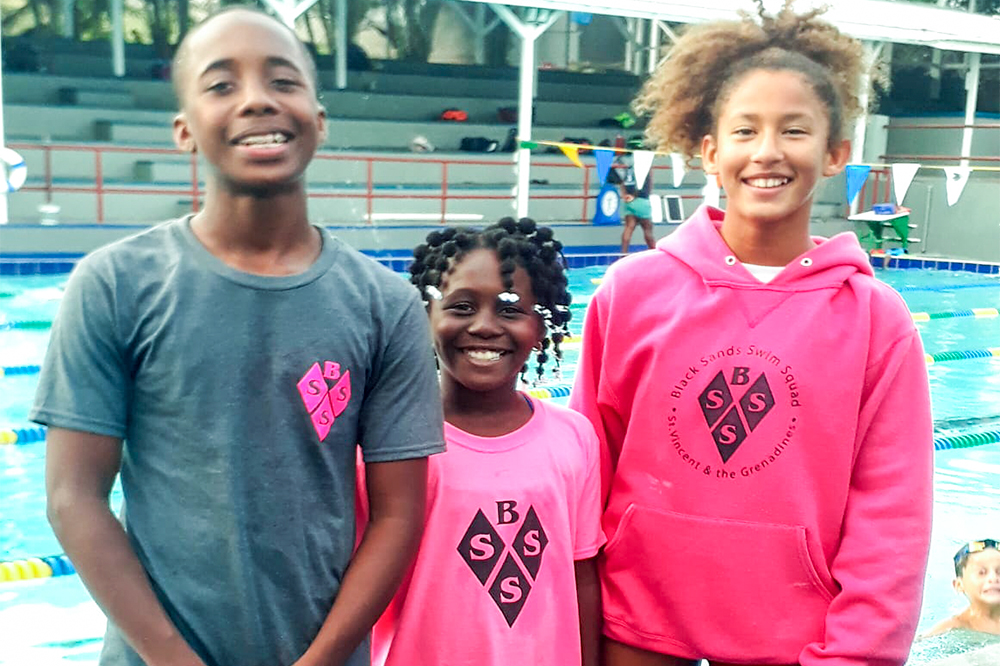 BSSS trio gives world class performance
The 28th Annual Aquatic Centre International Swim Meet was held in Barbados from May 24 to 26, and Black Sands Swim Squad (BSSS) had three swimmers competing – siblings Eltonique and Eltonte' Leonard and Jamie Joachim.
The very competitive meet had over 200 swimmers from Clubs representing Barbados, Antigua, Grenada, St Lucia and St Vincent and the Grenadines.
Competing in the boys 11 to 12 years age group, BSSS' Eltonte' Leonard put in the performance of a lifetime and achieved the results he has trained hard for. He challenged his fitness by entering a total of 14 individual events and swam 8 personal best times and was awarded 4 gold, 7 silver and 1 bronze medal. He also collected the trophy for being the Top Overall Swimmer in his 11 to 12 years age group and finished the event coming second overall out of all the male swimmers from all age groups.
His sister, Eltonique Leonard, competed in the Girls 8 years and under age group and proved that great swimming talent runs in the Leonard family. Eltonique swam all 7 events available in her age group, resulting in 6 personal best times, 2 gold and 5 silver medals and she received the 2nd place trophy for the overall 8 years and under age group champion award. The name Eltonique Leonard is now written in the SVG swimming record books. She set new national records in 4 events:- 50 metre Backstroke – 45.28 seconds; 50 metre Breaststroke – 47.09 seconds; 50 metre Butterfly – 39.36 seconds and 200 metre Individual Medley – 3 minutes 27.74 seconds.
Jamie Joachim lived up to the great reputation her surname has with swimming in SVG. Jamie competed in a total of 9 events in the girls 11 to 12 year age category.
She recorded 6 personal best times and swam herself onto the medal podium, winning 1 silver and 2 bronze medals. Two of Jamie's great swims set new SVG national records in the following events: 200 metre Freestyle – 2 minutes 28.11 seconds and 200 metre Individual Medley – 2 minutes 52.48 seconds.
BSSS Coach Kyle Dougan commented "I'm extremely happy with the results from the swimmers. A total of 22 medals and getting the club overall points to 9th position out of 17 clubs from only 3 swimmers is an amazing achievement. It's also great to see National records being broken. Eltonique and Jamie have joined BSSS swimmers Mya DeFreitas, Abigail Deshong and Kevern DaSilva in breaking SVG swimming records in 2019.
Dougan went on to say "To give the general public an idea of the high standard of swimming Eltonte' Leonard is at. In some events, his times rank him in the top 5.7 percent of 11 to 12 year old boy swimmers in America, when we use the Motivational Time Standards chart issued by USA Swimming."