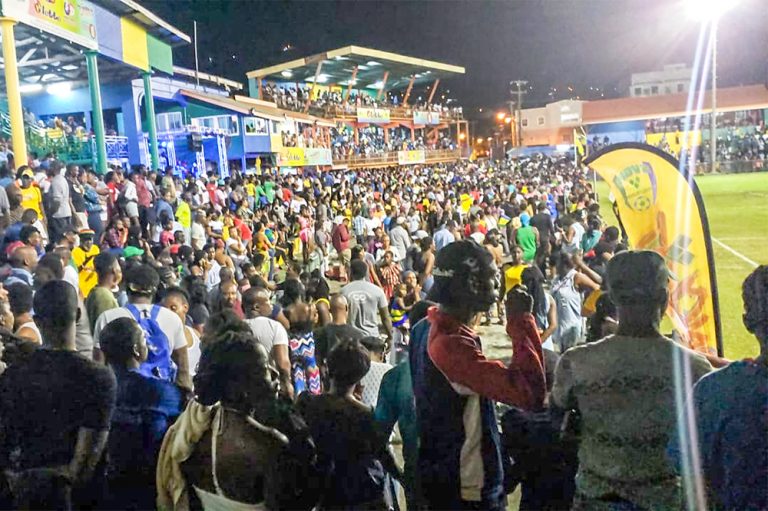 Vincy Heat receive overwhelming support at Victoria Park
St Vincent and the Grenadines senior men's football team Vincy Heat could not complain about support from Vincentians during last week hosting of the Windward Islands Football Association (WIFA) tournament at the Victoria Park.
On the four nights in which Vincy Heat was featured, there were very large crowds, with the final night, last Friday, having one of the largest turn-outs in recent football history.
Such was Friday night's crowd, that some persons did not gain entry.
Commending Vincentians for their support was president of the Grenada Football Association Cheney Joseph, who said on entry to the venue, he thought he was attending this country's "Soca Monarch".
Joseph intimated that he was gratified that the Vincentian public was willing to rally around their team.
The support was also welcomed by president of the St Vincent and the Grenadines Football Federation Marvin Fraser, who remarked: "The turnout was overwhelming".
Stunned by the attendance last Friday night, Fraser revealed, "Not what we expected… What we had in mind, is to have the people behind the team again and give them a spectacle going into the Bonaire game".
St Vincent and the Grenadines meets Bonaire, March 21 at the Arnos Vale Playing Field, in the CONCACAF Nations League qualifiers.
Fraser is hopeful that support shown at the Victoria Park for Vincy Heat will be carried over to other activities of the SVGFF.
Also expressing delight in the turn-out as well, was Vincy Heat's head coach Kendale Mercury.
"It is a good feeling to bring that kind of vibe, a band, a filled park," Mercury said with satisfaction.
Mercury was a contributing factor of a similar occasion back in 2009, when people had to be turned away from the venue on the occasion of the Under-20 final of the Caribbean Football Union's qualifiers, between St Vincent and the Grenadines and Jamaica.
Incidentally, it was Mercury who was the head coach of St Vincent and the Grenadines Under-20 team then.
Pleased with the massive turnout on Friday, Mercury stated: "It is a good feeling to know that I have that kind of effect".
Like others, Mercury wishes for similar support on March 21, versus Bonaire.