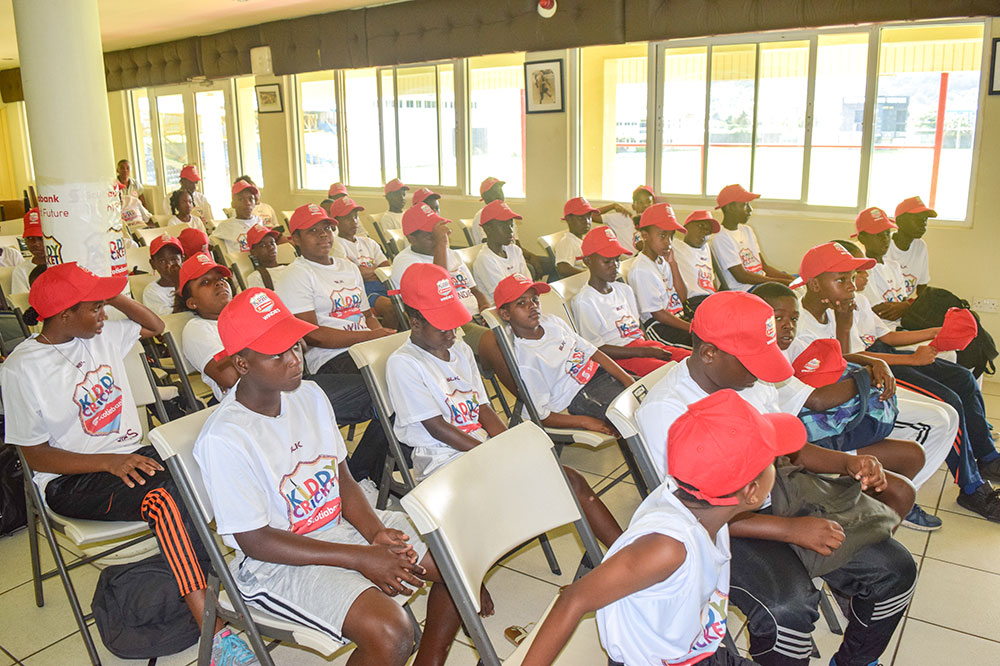 2018 Kiddy Cricket Camp opens with a challenge
"Come next year, I want to see one of you on the St Vincent and the Grenadines Under-15 team."
This was the challenge thrown out by Stanley Hinds, co–ordinator of the Scotia Bank Kiddy Cricket programme here in St Vincent and the Grenadines.
Hinds' challenge came as he addressed the opening ceremony of the 2018 Kiddy Cricket Camp, which took place last Monday at the Arnos Vale Playing Field.
Set to prove Hinds right are 60 of the most promising primary school students, who are engaged in the programme.
Hinds informed the participants that something tangible, compliments President of the St Vincent and the Grenadines Cricket Association Inc. Dr Kishore Shallow, is in store if anyone makes the team.
Hinds revealed that all members of the 2017 SVG Under-15 team were once part of the kiddy cricket programme.
In showing the progression of young cricketers, Hinds noted that two of the cricketers who are a part of this year's camp have already been selected for the Lennox John Cricket Academy, and are good prospects to make the SVG under-15 team.
Apart from Hinds, SVGCA Inc. President Dr Kishore Shallow and Earl Bennett of the Ministry of Education, encouraged the participants to stay with cricket, as there are economic and social benefits to be gained.
Both Shallow and Bennett, made reference to Vincentian cricketer Sunil Ambris, who came through the Kiddy Cricket ranks, and is now a West Indies test player.
The participants were thus encouraged to pursue their dreams in like manner.
The camp, which runs until this Friday, July 27, will instruct the participants on basic cricket skills, along with sessions dealing with injury prevention, nutrition, drugs and sports, laws of the game, and personal hygiene.
Also part of the week's activities will be the viewing of the Fire in Babylon video, a story of the period of West Indies' supremacy in world cricket.
In addition to Hinds, William Edwards, Ian Allen (SVG and Windwards Development Officer), Uzzah Pope, Gosnel Cupid, Bertram Stapleton and Cleton Burnett, are the main cricket resource persons for the camp.